When it comes to revamping your kitchen, there are many different ways to go about it. We've found two gems in Cape Town that recently underwent a transformation of note
The Power of Black  
This beautifully large and sunny kitchen located in a double-storey Victorian home in Cape Town received a facelift rather than an entire makeover. Interior designer Monya Eastman of Stokperd was responsible for this beautiful transformation. 'The cabinets were in good condition and the client was happy with the layout, but the wood had yellowed over time and the backsplash tiles were dated. So instead of a total overhaul, we decided on a facelift that included stripping the tiles, the brown vinyl flooring, re-spraying the kitchen cupboards and replacing the handles.' 
While the black may be overpowering to some, it provided a modern appeal to the kitchen with the contrasting white and pops of greenery. 'The look we were going for was fresh, bright and modern – I think it turned out well,' says Monya. They managed to save the existing pendant lights and painted the wooden door black for some added drama. The plants added here and there, along with some new framed prints and a round floral rug, add some life and personality to the kitchen – making it feel more homely and inviting. 
In total, the facelift took four weeks to complete from start to finish. By repurposing many of the items, the family were able to save on valuable time and money during this project. Monya added some great advice: 'If you have a kitchen that is in good condition but you don't have the budget for a complete renovation, consider a colour change for major impact. Make sure to involve a professional as the spraying of the cupboards is not a very DIY friendly procedure.' Another top  tip she mentions: 'Adding plants always uplifts the space, and be sure to carefully consider lighting. A bright and sunny kitchen is always a winner.'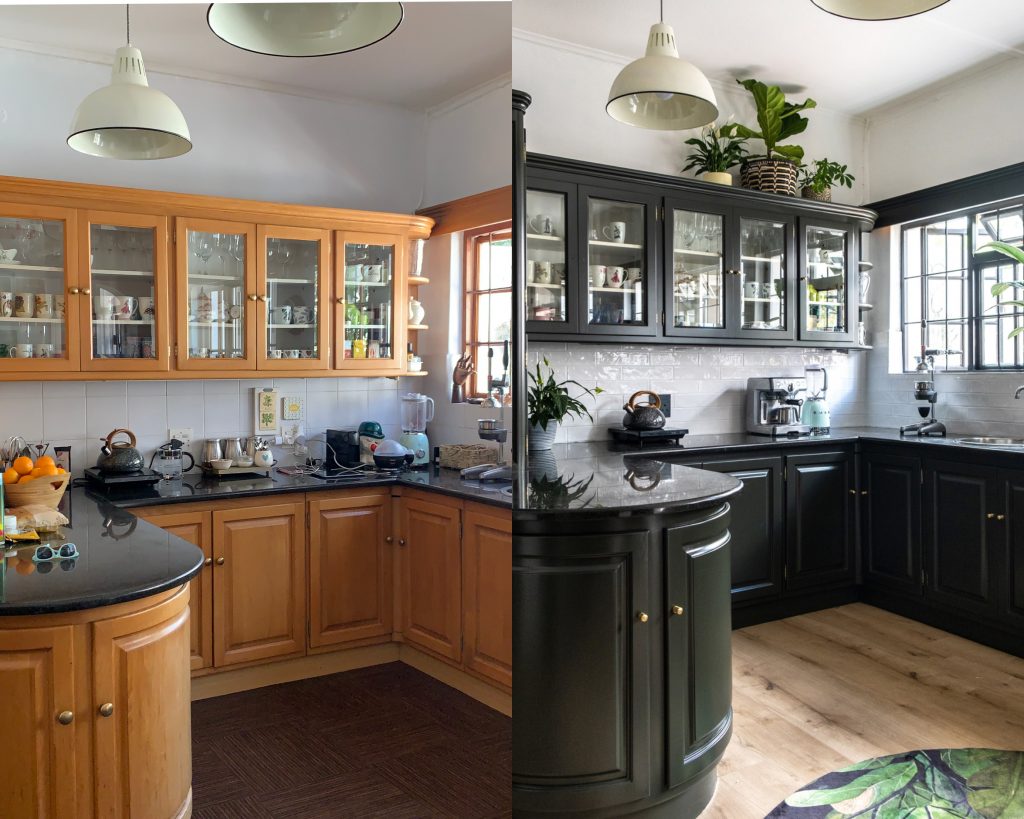 Transformation Overhaul 
Tucked away in an old apartment building, couple Andrew and Amanda decided to completely renovate and replan their kitchen space to take it from the 20th century into the 21st. This small but beautiful space was designed by Andrew – in which cupboard positions were moved, the finish was updated and the stovetop completely changed. 
They really wanted a modern kitchen that reflects who they are as a couple and is easy to navigate once in the space. The decision to go for a full makeover, as opposed to a facelift, was based on the building being rather old. Having deteriorated over time, the most cost-effective solution was to have it all completely replaced. The kitchen had just been redone for a few months when the above  neighbour's geyser burst and completely ruined all their hardwork, bringing about this renovation for a second time. And so, a project that initially should have taken just a few weeks ended up taking a few months. Regardless, the makeover turned out beautiful nonetheless. 
When it comes to a full renovation such as this, be sure to have a backup spot in the interim while the kitchen is under construction. Appliances can make life so much easier so food can still be prepared, however just not in the conventional way. Also keep the decor to a minimum to allow freedom of movement and counter space.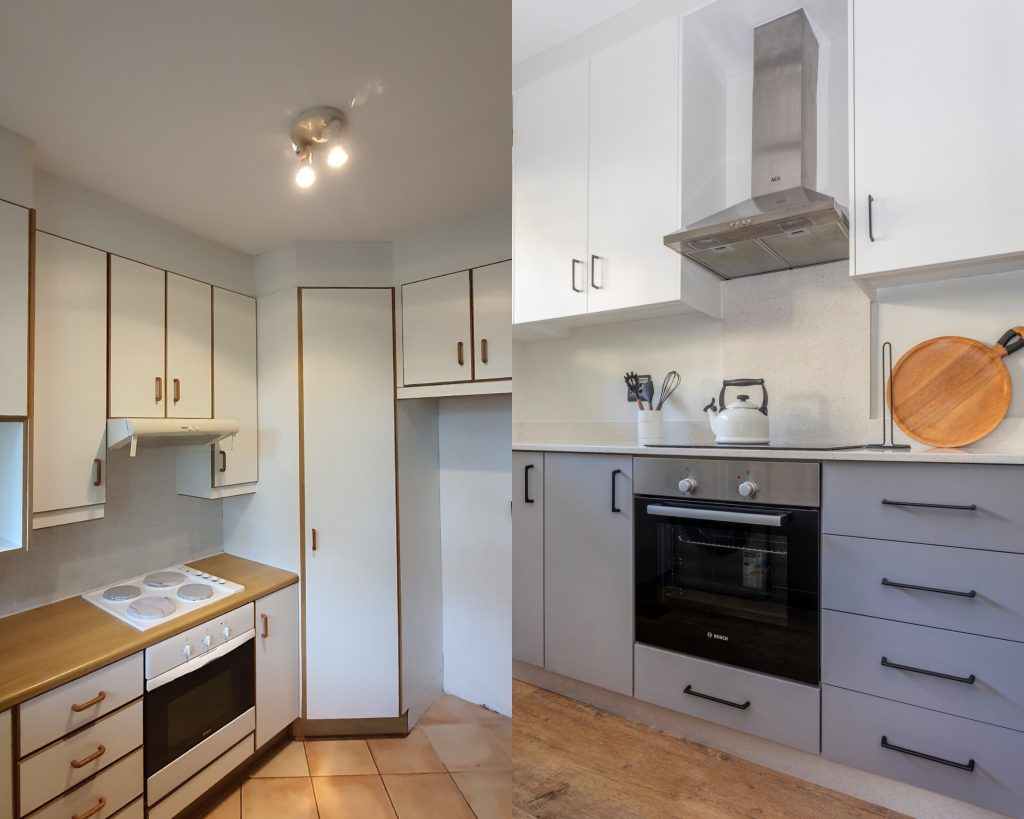 Words by Yashna Balwanth
Photography: Courtesy Images