In late November 2021, the world lost an irrepressible creative force, Virgil Abloh. And Africa lost a treasure. The son of Ghanaian immigrants, Virgil spoke proudly of his African roots. Indeed, he often cited heritage as being central to his creative process. His words were underpinned by action. In January 2021, numerous models at Louis Vuitton's Fall/Winter show wore pieces that featured kente, a traditional fabric worn in Ghana during major ceremonies. It is one thing to be in an arena that has traditionally been the sole domain of white men.
It is quite another to be unashamedly African in that space. 'I grew up feeling that design wasn't for me, because I didn't see anyone like me in design,' he told WWD. 'There's no better feeling than creating or making something new or bringing joy through fashion. What I'm more interested in than anything else is the 17-year-old kid in Kansas that looks like me or grew up like me and didn't think fashion was ever an industry that he or she could participate in.' Against this background, it would have been tempting for Virgil to bow to the pressure of creating in ways that sat well on the market's palate. Indeed, many of us would have understood if he had just been content to be a voice in the space. 
It was an enormous achievement for a Black man of African descent to ascend to the throne of one of the world's most iconic fashion houses. He represented a reference point for young Black kids from Africa and the rest of the world. Their ambition could soar, thanks in large part to the path Virgil carved. That path was carved on his own terms, so it perhaps should have been no surprise that, once he had reached luxury fashion's summit, Virgil would continue to lean into what got him there The extraordinary creative lens he saw the world through birthed design that was more often than not unapologetically anti-establishment. In an industry that for most of its existence considered an African perspective to be lesser than, Virgil, whose seamstress mother taught him to sew as a child, refused to be defined by anything other than his creative perspective.
Louis Vuitton CEO Michael Burke recently described Virgil to The New York Times as '… disruptive in the best way. Virgil could create a metaphor and a new vocabulary to describe something as old-school as Fendi (where he interned in 2009 along with close friend Kanye West).' The pseudo-woke masses accused him of cultural appropriation for the use of kente in the F/W show. His rebuttal was decisive. 'If kente cloth – the fabric of my cultural heritage – is rendered in tartan, does that make kente any less  Ghanaian and tartan any less Scottish? Provenance is reality, while ownership is a myth: man-made inventions now ripe for reinvention.' Speaking more broadly, reinvention was at the core of what Virgil did. His first brand, Pyrex Vision, took off after he sourced cheap Ralph Lauren flannel shirts and screen-printed 'Pyrex 23' (the number was an ode to his sporting hero Michael Jordan) on the back. Clout garnered from a clutch of highly influential people wearing the piece, combined with a scarcity model, resulted in the shirts being sold out in no time. Today, that Pyrex shirt sells for in excess of R10 000.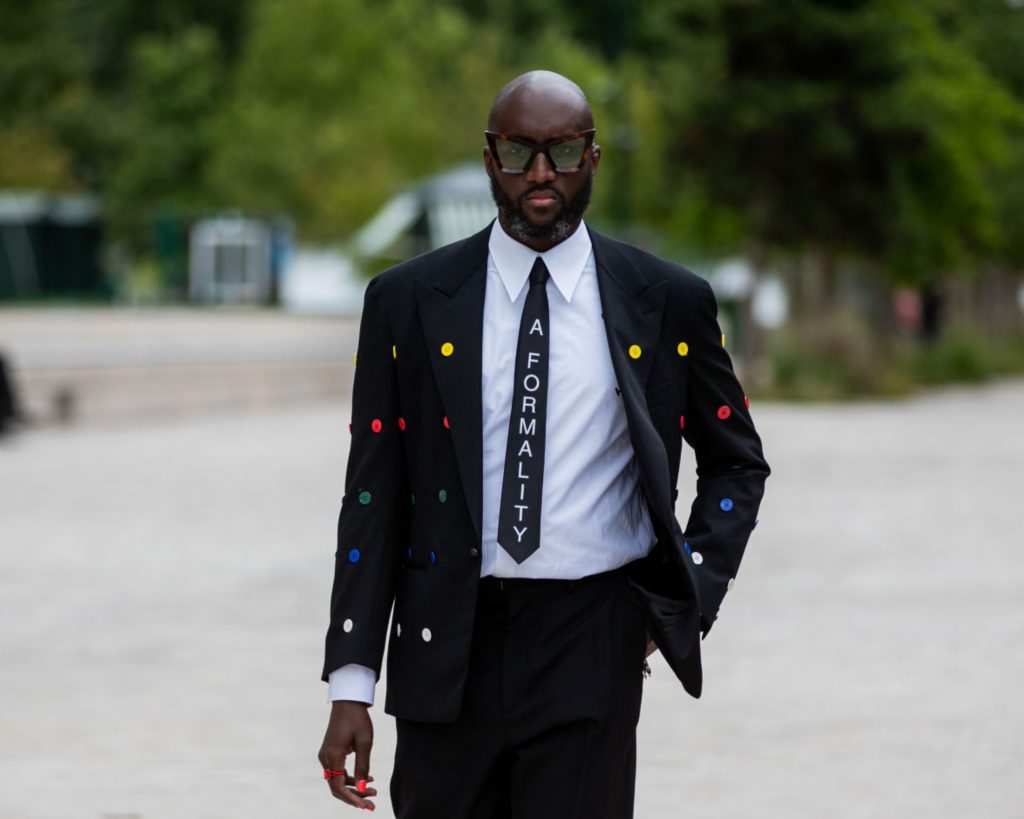 1980
Virgil Abloh was born on 30 September outside of Chicago. He and his sister are raised in nearby Rockford, by Ghanaian immigrant parents. He attends the Boylan Catholic High School – official colors green and white – and graduates in 1998. His mother is a seamstress and teaches him the tricks of her trade.
2002
Abloh completes his undergraduate degree in civil engineering at the University of Wisconsin-Madison. (In 2015, he would return to design commemorative tees for the university.) Rumour has it that on the day of his graduation, he skips his final critique to take a meeting with Kanye West's then-manager John Monopoly. Kanye and Virgil begin officially working together soon after.
2006
Virgil completes his master's degree in architecture from the Illinois Institute of Technology. During his time at IIT, a Rem Koolhaas building is completed, which he says, 'piqued my interest and opened my gateway into fashion'.
2009
Virgil and Kanye become interns at Fendi in Rome. Louis Vuitton CEO Michael Burke recently told The New York Times, 'I was really impressed with how [Virgil and Kanye] brought a whole new vibe to the studio and were disruptive in the best way. Virgil could create a metaphor and a new vocabulary to describe something as old-school as Fendi. I have been following his career ever since.'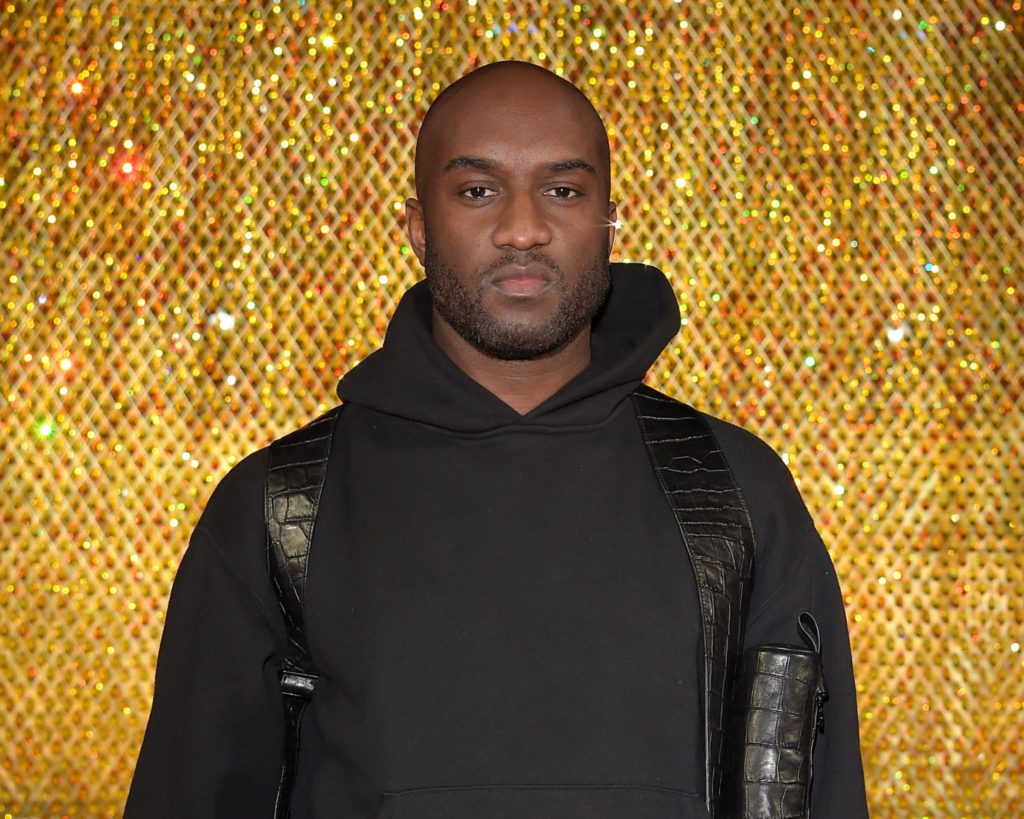 2009
Virgil and Kanye, along with a crew of famous friends, make the rounds at Paris Fashion Week, turning heads in the process. They're photographed by Tommy Ton for Style.com outside of the Comme des Garçons show in what becomes a widely circulated photo. Virgil tells W Magazine, 'We were a generation that was interested in fashion and weren't supposed to be there. We saw this as our chance to participate and make current culture. In a lot of ways, it felt like we were bringing more excitement than the industry was.'
2010
Virgil officially assumes the role of creative director at Donda, West's creative agency.
2011
Virgil is the artistic director for the album Watch the Throne by Jay-Z and Kanye, an achievement that earns him a Grammy nomination. The album cover is designed by Riccardo Tisci, then the creative director of Givenchy, a role Virgil was rumoured to be up for after Riccardo's departure in 2017.
2012
Virgil launches his first brand, Pyrex Vision, in New York. He purchased deadstock Ralph Lauren flannel shirts for $40 each, and screen-printed them with the word 'Pyrex' and the number 23, an homage to his childhood hero Michael Jordan. They sell for $550 each.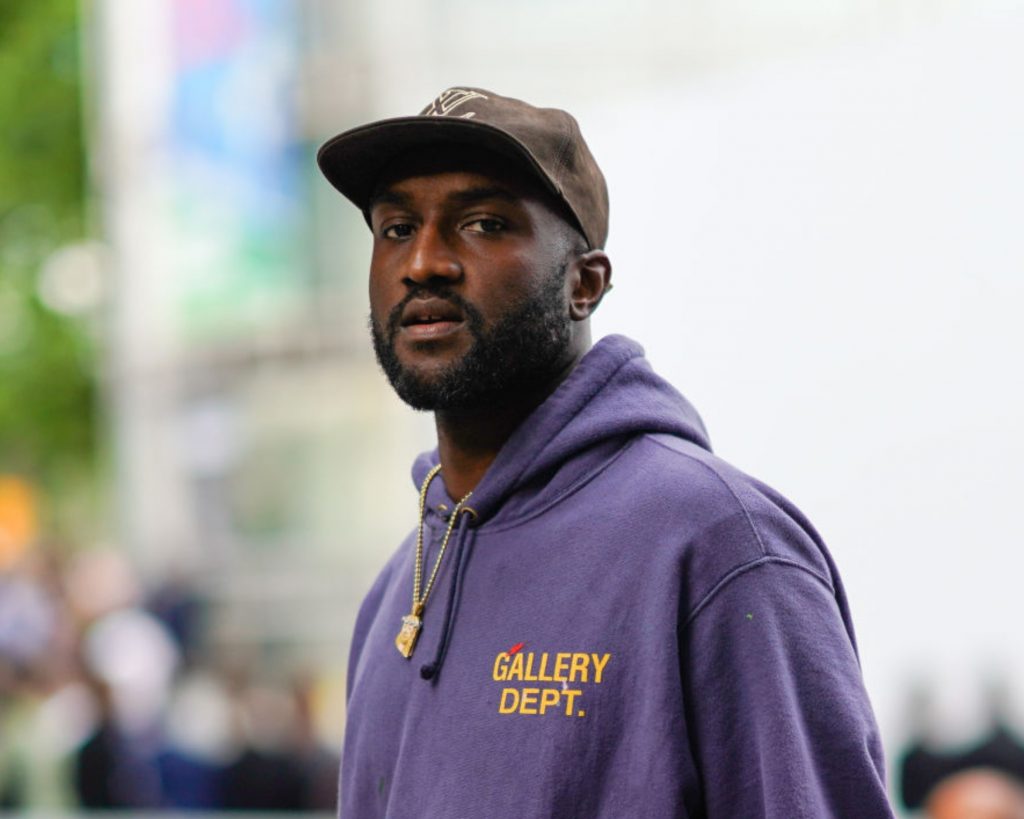 2013
Virgil shutters Pyrex and founds Off-White, a multi-platform creative endeavour based in Milan. Its main medium is fashion. At Off-White, he combines ideas of streetwear, luxury, art, music and travel, defining the brand simply as, 'the grey area between black and white as the colour Off-White.' From the get-go, hovering quotation marks become Virgil's signature.
2014
Virgil launches womenswear for Off-White and begins showing his men's and women's collections during Paris Fashion Week.
2015
Virgil's womenswear operation gains steam when Beyoncé wears a palm-print sweatshirt with the word Nebraska on it, an homage to Raf Simons' Fall 2002 Virginia Creepers collection, in Nicki Minaj's video for 'Feeling Myself'. That same year, Off-White is named a finalist for the LVMH Prize. He loses the grand prize and special prize to Marques'Almeida and Jacquemus, respectively.
2016
Virgil opens his first concept storein the Aoyama area of Tokyo. The store features a water cooler with Off-White branded cups that visitors take for free and resell on the secondary market. Virgil debuts his Grey Area furniture collection in Milan, his first furniture venture under the Off-White brand. It features iron grid chairs, benches, and tables with leather cushions and Carrara marble tops.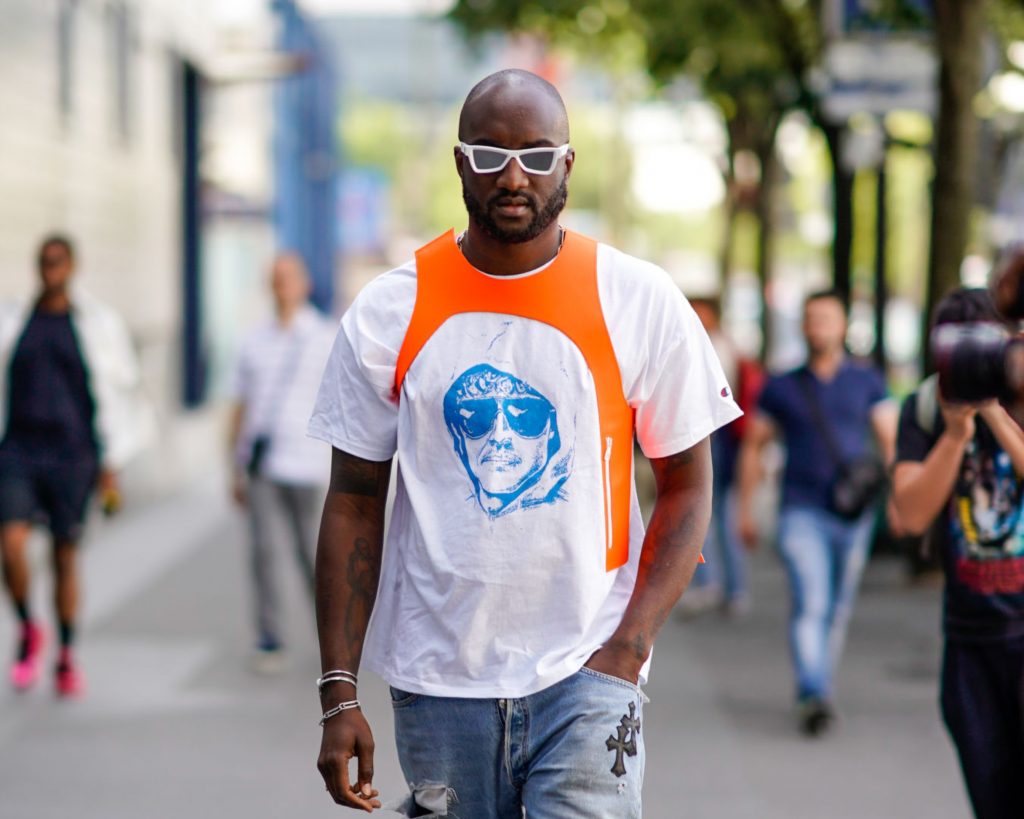 2017
Even with the announcement of a collaborative exhibition with Takashi Murakami opening at Gagosian; the release of his first song; the opening of his New York store; the British Fashion Award for Urban Luxe Brand; and collabs with Warby Parker, Jacob the Jeweler, and Jimmy Choo, the biggest news for Virgil in 2017 is The Ten, his sneaker partnership with Nike. He re-creates 10 of Nike's iconic silhouettes in a work-in-progress style, each adorned with a safety tag around the laces. The limited release leaves the sneaker market hungry for more, and he hosts panels and workshops with Nike and additional releases throughout the year.
2018
Virgil is named the artistic director of Louis Vuitton's menswear collections, stepping into the role vacated by his friend and mentor Kim Jones. 'It is an honour for me to accept this position. I find the heritage and creative integrity of the house are key inspirations and will look to reference them both while drawing parallels to modern times,'he says in a statement.That summer, he will perform at Lollapalooza.
2019
Virgil Alboh's artworks are the subject of an exhibition at the Museum of Contemporary Art Chicago, and his Ikea collaboration is released through the brand's international stores.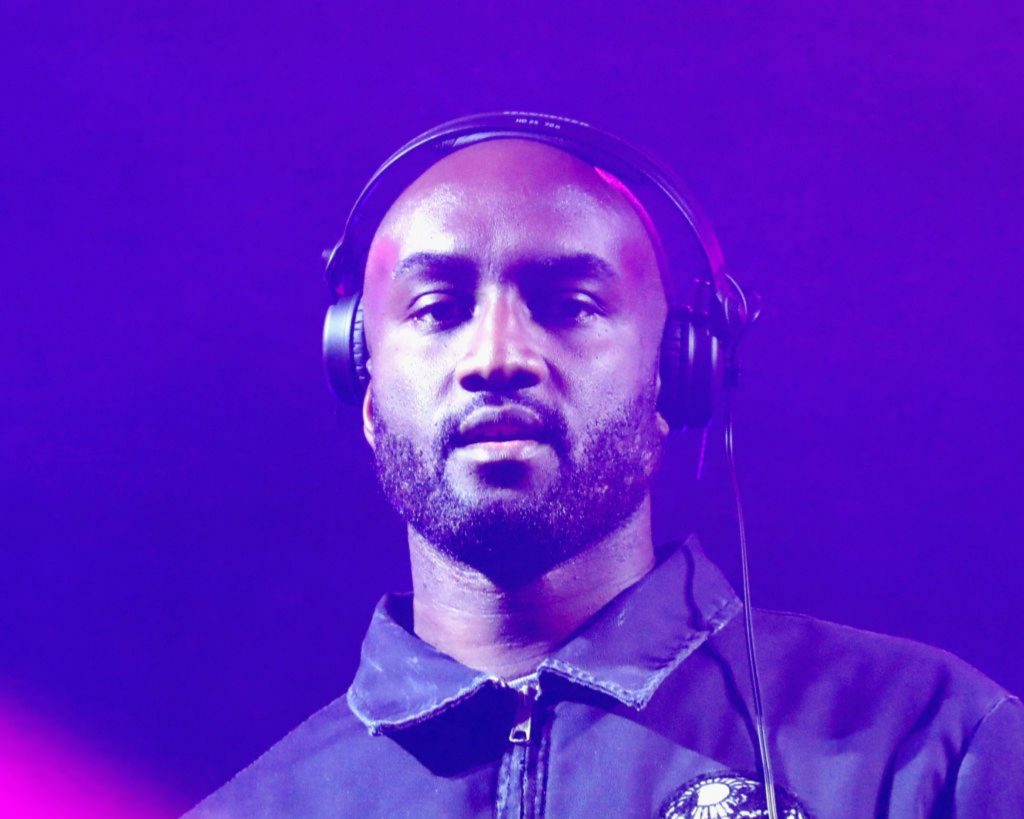 His success with Pyrex Vission  paved the way for the establishment of Off-White, luxury streetwear and furniture label based in Milan. His potency there, marked by Vigirl's ability to take the familiar and make it extraordinary, caught the attention of the industry's big hitters. Off-White collaborated with Nike and Jordan to create 'The Ten', which featured 10 Virgil-inspired takes on iconic sneaker silhouettes. Many of those reimagined models have become coveted collector's pieces, none more so than the Jordan 1 High 'Chicago'. Collaboration was part of his creative philosophy, not a means to get the bag. In the wake of his passing, a clutch of creators, from custom shoe colour technicians to custom clothing creators, posted DMs of Virgil inviting them to work with him. Virgil lived and breathed creative connection and his life was a testament to the power of collaboration.
He understood that it is the new way of work. This collaborative approach opened doors to a string of brands and designers, who were granted opportunities to showcase their creative perspective they otherwise would never have been able to. In an industry where self-appointed gatekeepers are prevalent, Virgil bypassed them by simply having no regard for them. The opportunity with Louis Vuitton came largely from the consistent exhibition of his prowess and potency in ways that felt like it had no ambition beyond creating beautiful products. Instead of kicking a door down, Virgil magnetised himself. Louis Vuitton came looking for him, he never went after the co-sign.This gave him a degree of power and control that made it possible for him to express the fullness of his gift. He did. And the world was more beautiful for it.
Words by Ryan Vrede
Photography: Courtesy Images