These power lunch recipes are everything and more! Why, you may ask? Eating foods that are high in sugar, fat and salt make us feel good because they activate our brain's reward system. But instead of reaching for a bag of sweets or something deep-fried, opt for our sandwich as a more sustainable lunch option when those cravings hit. It's also easily customised to be as healthy as you'd like. The bread can be a rye or seed loaf, then add lean bacon or kettle-cooked crisps. And even with these healthy substitutions, it'll still hit the spot.
SWEET POTATO, EGG AND BROCCOLI BOWLS WITH RED PEPPER DRESSING
SERVES 4
PREP TIME 15 min
COOK TIME 35 min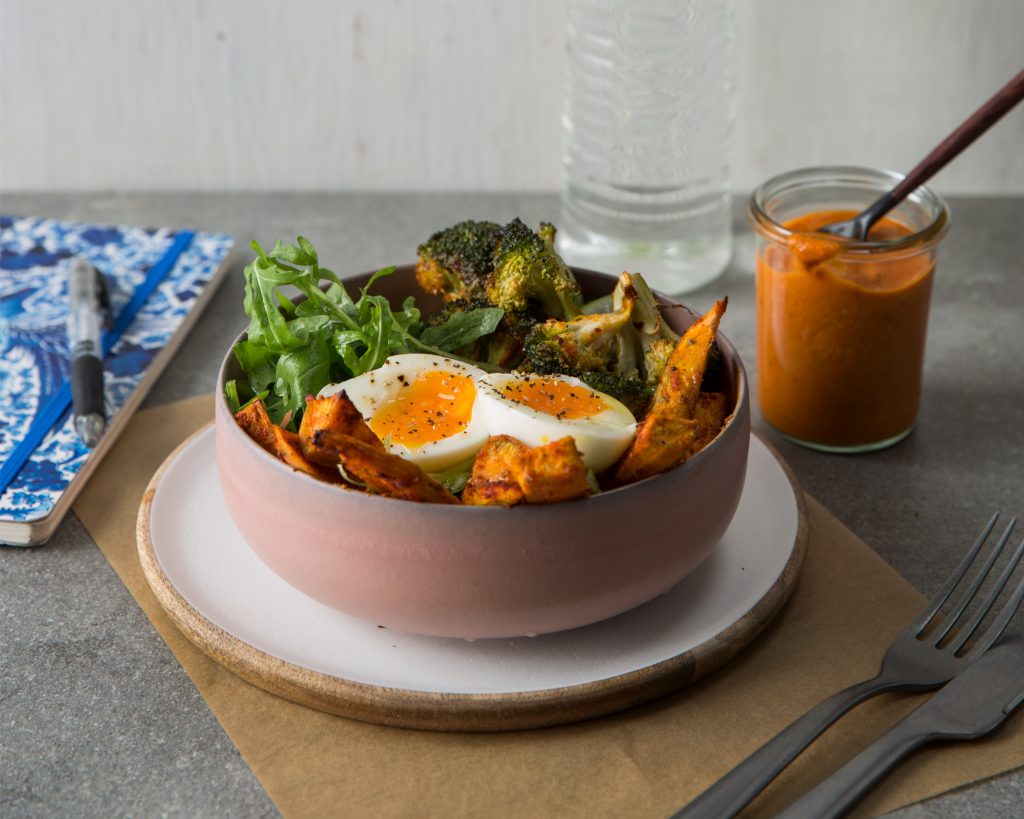 INGREDIENTS
For the dressing
1 red pepper, seeded and roasted
2 tomatoes, roasted
⅓ cup olive oil
2 tbsp red-wine vinegar
1 tsp paprika
2 garlic cloves
For the bowls
2 sweet potatoes, peeled and cut into wedges
2 broccolis, florets
2 tbsp olive oil
1 tsp chilli flakes
1 tsp garlic powder
1 tsp paprika
2 cups rocket
4 eggs, boiled and halved
METHOD
For the dressing
1. Add all the ingredients to a food processor and blend until smooth. Season to taste and set aside.
For the bowls
1. Preheat oven to 200°C.
2. Toss the sweet potatoes and broccoli florets with the oil and spices. Spread them out on a roasting tray.
3. Roast for 25 minutes, then remove the broccoli. Roast the sweet potatoes for another 10 minutes.
4. Place some rocket in the bottom of a bowl and top with the sweet potato, broccoli and an egg. Drizzle with the red pepper dressing.
Loaded BLT & chip sandwich
SERVES 4
PREP TIME 20 min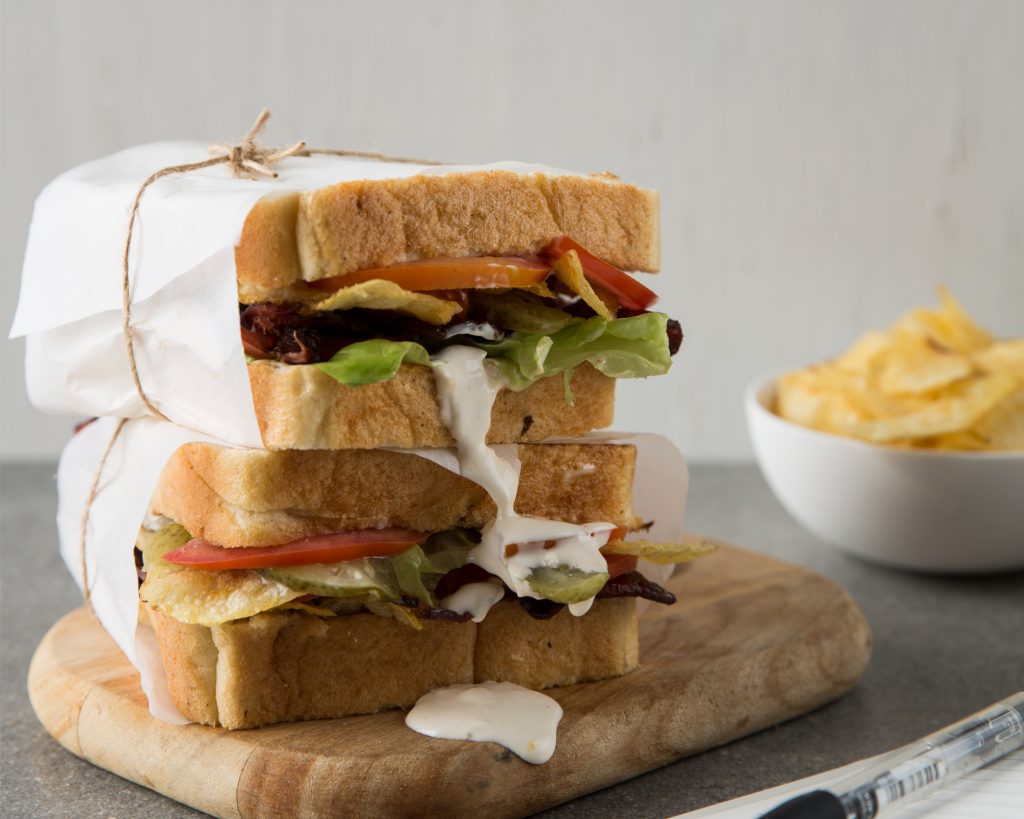 INGREDIENTS
For the aioli
½ cup mayonnaise
1 garlic clove, minced
Zest and juice of ½ lemon
1 tsp cayenne pepper
For the sandwich
8 slices bread
8 lettuce leaves
2 tomatoes, thinly sliced
16 slices streaky bacon, fried
2 cups salted potato chips
2 gherkins, thinly sliced
METHOD
For the aioli
1. Combine all ingredients, mix well and set aside.
For the sandwich
1. Lightly toast the bread slices in a pan over medium- high heat.
2. Spread some aioli onto each toasted slice and layer lettuce, tomato, bacon, chips and gherkins on top. Season and  sandwich closed.