Feast on these delicious curries and casseroles with the family this winter
Orzo risotto with mealie ribs
Prep time: 20 min
Cook time: 30 min
Serves: 4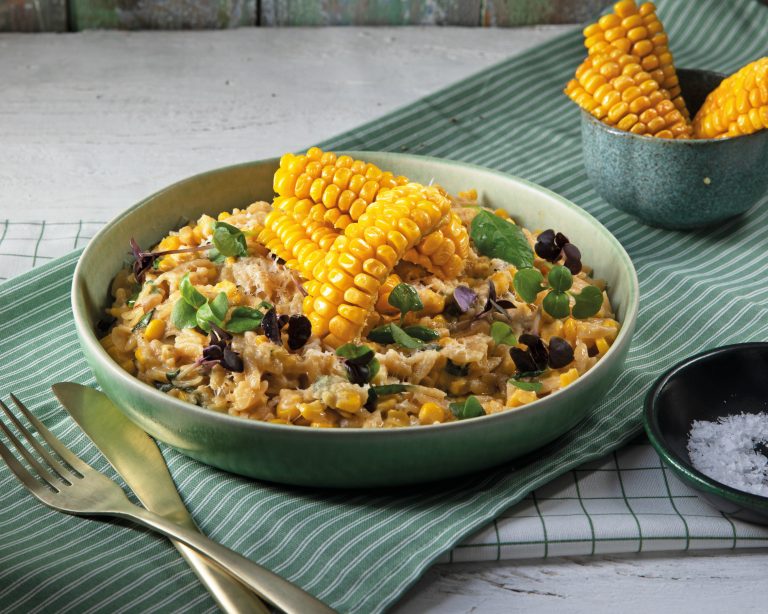 INGREDIENTS
For the corn ribs
Oil for frying
2 mealies
For the orzo 'risotto'
3 cups vegetable stock
2 tbsp olive oil
3 tbsp butter, divided
1 white onion, finely diced
2 garlic cloves, minced
1 tsp chilli flakes
1 ½ cups orzo (pasta rice)
1 cup dry white wine
2 cups fresh or frozen corn kernels
½ cup grated hard cheese
½ cup basil leaves, chopped 
To serve:
1 cup basil
METHOD
For the corn ribs
1. Heat the oil in a pot over medium-high heat.
2. Carefully cut the mealies in half vertically, down the middle, before cutting each half into quarters.
3. Fry the mealies in the oil for 5 minutes until curled and golden. Remove from oil and drain on kitchen towel. Season with salt. Reheat before serving. 
For the orzo risotto
1. First have the vegetable stock simmering gently in a small saucepan.
2. Heat the olive oil and 1 tbsp butter in a heavy based saucepan over medium-low heat.
3. Once melted, add the onion and sauté gently for 5 minutes until soft. Season with salt and pepper.
4. Add garlic and chilli and cook for a further 2 minutes until fragrant.
5. Stir through the orzo before adding the wine. Allow the wine to evaporate before you begin to add the stock, one ladle at a time, stirring constantly. Add another ladle once the first has been absorbed.
6. After the second ladleful of stock has been absorbed, add the corn kernels and continue to stir gently, adding the remaining stock and cooking until creamy.
7. Remove the pan from the heat and stir through the remaining 2 tbsp of butter and cheese. Season to taste with salt and pepper and stir through the chopped basil.
8. Serve the risotto in bowls, and garnish with the corn ribs and fresh basil. 
Thai green curry
Prep time: 15 min
Cook time: 20 min
Serves: 4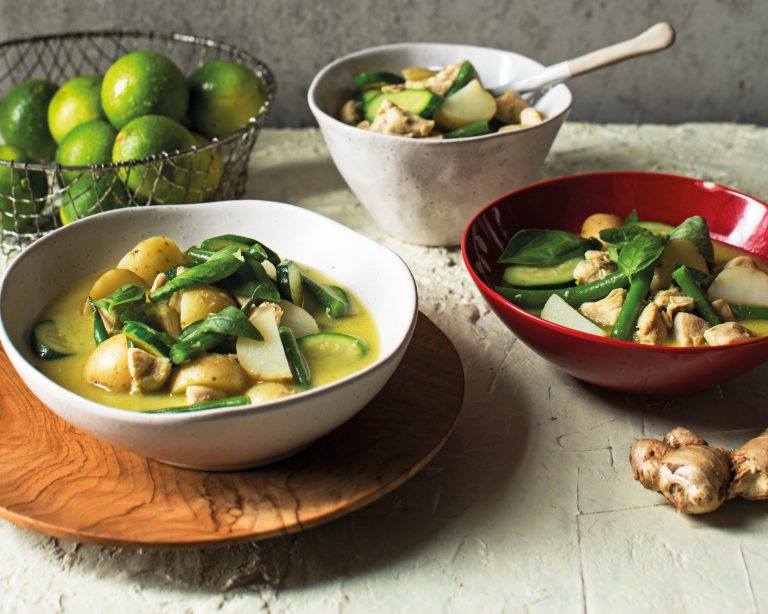 INGREDIENTS
300 g baby potatoes, quartered
2 handfuls green beans, halved
4 baby marrows, sliced
2 tbsp vegetable oil
1 garlic clove, chopped
1 tsp ginger, grated
2 tbsp Thai green curry paste
3 chicken breasts, cut into chunks
1 × 400 ml tin coconut milk
2 tsp fish sauce
2 tsp brown sugar
1 tsp lime zest
½ cup basil, for serving
METHOD
1. Place the potatoes in a pot of boiling water. Place over a medium heat and cook for 5 minutes. Add the green beans and baby marrows and cook for a further 2–3 minutes until just soft. Drain and set aside.
2. Heat the oil in the same pot over medium heat. Add garlic, ginger and curry paste and stir fry for 1–2 minutes until fragrant.
3. Add the chicken and fry for a further 2 minutes then add the coconut milk, fish sauce, sugar and lime zest.
4. Simmer for 4–5 minutes until chicken is cooked right through.
5. Add the potatoes and vegetables back to the pot and stir through the basil leaves. Serve.
Beef hot pot
Prep time: 25 min
Cook time: 55 min
Serves: 4–6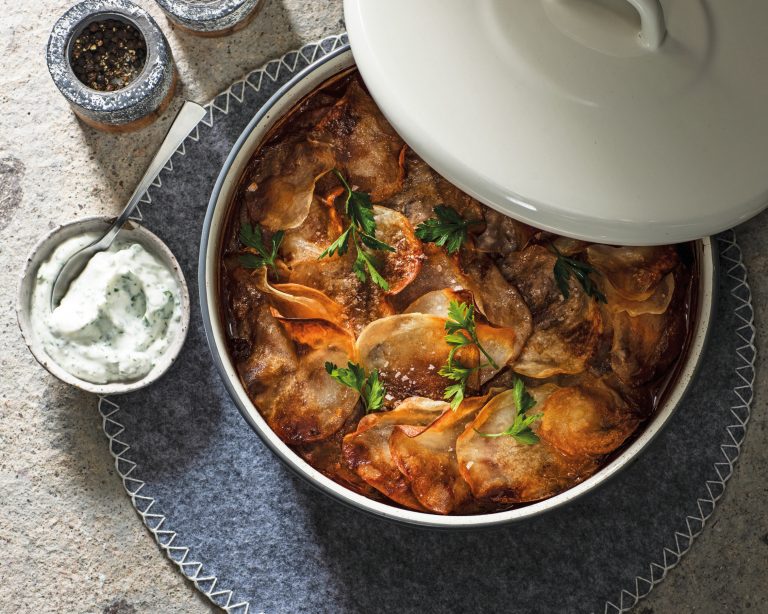 INGREDIENTS
1 kg beef cubes
3 tbsp vegetable oil
1½ onions, thinly sliced
4 carrots, peeled and chopped
4 sprigs thyme, leaves picked and chopped
1 sprig rosemary, leaves picked and chopped
½ tsp cinnamon
2 cloves
2 bay leaves
1 ½ tbsp tomato paste
2 tbsp flour
½ cup dry red wine
1 ⅔ cups beef stock
1 tin chopped tomatoes
2–3 potatoes, thinly sliced
2 tbsp butter
To serve:
Handful parsley
1 cup yogurt mixed with 1 tbsp chopped parsley
METHOD
1. Preheat the oven to 200ºC and season the meat with salt and pepper.
2. Heat 2 tbsp of oil in a large pot over medium-high heat.
3. Add the beef and fry until browned, then remove from the pot and set aside.
4. In the same pot, heat another tbsp oil and fry the onions for 5 minutes, until soft and golden. Add the carrots, herbs and spices and cook for 3 minutes.
5. Stir in the tomato paste and flour. Add the red wine, stock, chopped tomatoes and beef to the pot and bring to the boil. Simmer for 5 minutes.
6. Transfer the meat filling to a deep circular casserole dish and arrange the sliced potatoes overlapping on top.
7. Dot the potatoes with butter and bake for 30–35 minutes until potatoes are golden brown and crisp.
To serve: Top the casserole with parsley and serve with herbed yogurt on the side. 
Orzo Risotto with Mealie Ribs: Stylist: Elizabeth Mackenzie; Photography: HMimages
Thai Green Curry: Stylist: Kate Turner; Photography: HMimages.co.za
Beef Hot Pot: Stylist: Kate Turner; Photography: HMimages;