It's big, it's beautiful. It's sure to be Instagram shot. Have your camera nearby. Because not only do the Kalahari's expansive and beautifully desolate landscapes put on a visual feast, but there's loads to discover, too.
1. Meerkats… And that's not all
In the far north, within the border straddling Kgalagadi Transfrontier Park, visitors thrill at the sight of black-maned lions and you can watch humungous herds of springbok stretch across the terrain. Jackals and wildebeest saunter through the scraggly grass at the foot of red sand dunes that are defining features of a wildlife reserve that's known not so much for the multitudes of sighting as for the specialness of what you see. And the sensation of being somewhere truly faraway. There are the meerkats and the desert-dwelling creepy-crawlies, the kori bustards, and the oryxes that give you blank stares pretending
they don't know just how pretty they are. 
Driving through the reserve, where you are constantly wending back and forth between South Africa and Botswana because the border fences have been taken down to let animals roam more widely, it's quite easy to become mesmerised by the expansiveness and emptiness of the arid surrounds; there's a lonely beauty that gets under your skin the way the Kalahari dust gets into every crevice and crack of your body. In SANPARK's off-grid wilderness camps, you are assured of solitude and space, and a chance to see and hear animals from your verandah, scratching in the dirt just outside your cabin. But there are also camping sites and an array of cottages at rest camps like Twee Rivieren where you find such conveniences as a petrol station, a store selling food and other basics, a pool, and also access to rangers who will take you on sunset game drives.
What to photograph: Black-mane lions, jackals, kori bustards, large herds of springbok, pretty oryxes (aka gemsbok)… and the wide-open spaces and red sand dunes are also highly photogenic.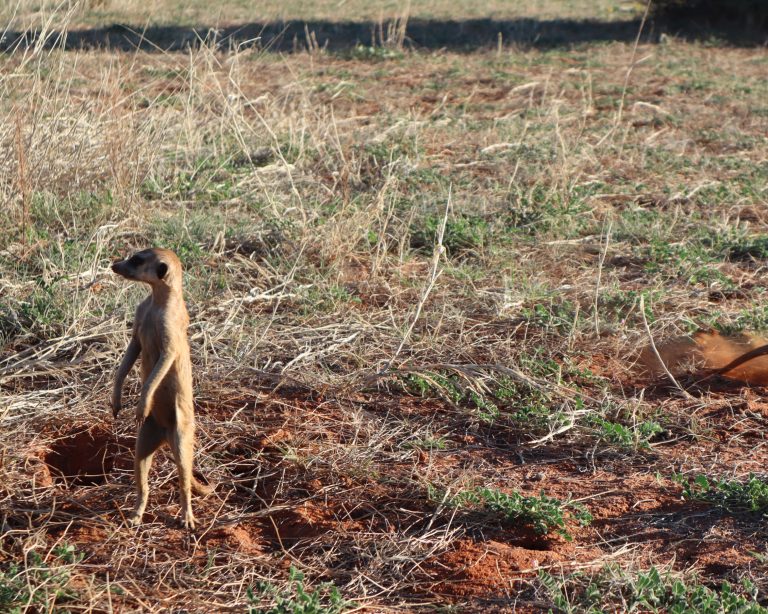 2. Mzansi's most otherworldly restaurant
For years, Tswalu in the 'Green Kalahari' has been hands down the most glamorous place to stay in the Northern Cape- now, thanks to the recent opening of Jan Hendrik van der Westhuisen's Restaurant Klein JAN, an offshoot of his Michelin-star establishment in France, it's also among the world's most astonishing dining destinations. Guests at Tswalu get one dinner included in their stay, and people are known to fly in with their private planes – it's also attracted farmers from neighbouring farms who come for lunch on Sundays.It's rather akin to stepping into a Wes Anderson movie- not just a journey for the palate, but an entire experience that you will relish and remember. Set in the original farm-house on the Tswalu reserve, it's like being in a piece of interactive theatre with alternating spots for a number of different courses, until you eventually arrive – after the bread course in the dedicated bread room and an introductory palate cleanser on the front porch – in an open-to-the-elements space that faces onto the surrounding wilderness, with trees and stars, perhaps the moon to add some context to the whole experience. 
As you are plied with various morsels that showcase the variety of produce and abundance of the Northern Cape, the charming team of servers and food and wine experts – all of them young and passionate – keep you informed with background tales and titbits of information about the what, where and how of what you're eating. Everything is a bit of a twist on whatever you might consider a 'normal' meal, and while the whole lavish experience is very special, very smart, and full of flavour, there's nothing fancy or uptight about any of it. You are there to live out some sort of flight of fantasy, an expression of someone's culinary imagination – it is a piece of art that happens to be your dinner. And when you finally make your way back through the various passageways and stairwells and courtyards you travelled through in order to reach your table in the first place, you feel like you have been the star in a quirky, wonderful movie. You will probably never think about dining out in quite the same manner ever again.
What to photograph: It'll be tempting to try to photograph every dish, but try to focus on the moment, since flavour is one thing you cannot capture in a picture.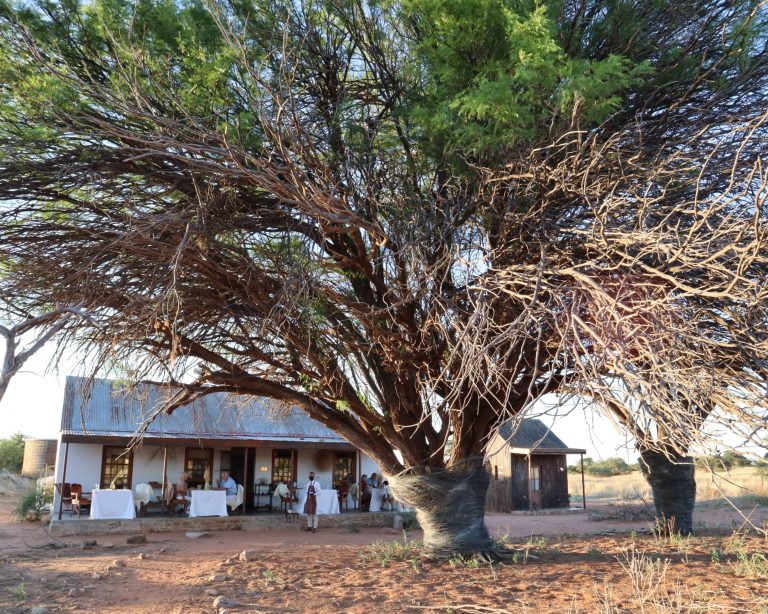 3. Nests that take your breathe away, and trees that aren't trees
There's Kakamas and Kuruman, Keimoes and Khamkirri. And apart from all the places that start with 'K' and that trip off the tongue like strange poems in a foreign language, the Kalahari also brings to mind many other singular experiences. Most noticeably – apart from the vastness of the spaces in between the inhabited places – there are the humungous nests of social weaver colonies that bulge from trees and telephone poles and any other structures they can get their crafty beaks on. Their nests, which look like big bulging irregular haystacks, are the biggest built by birds of any kind – more than a hundred pairs of weavers, straddling multiple generations, can be accommodated in a colony. The structures are designed to assist with temperature regulation, and the nest's entrances are on the underside where the birds sometimes place sharp sticks to prevent predators from getting in.
While they look very cool when they're built on electricity poles, they can cause short circuits and also catch fire. Apart from nests, in the Green Kalahari region, it's worth hunting for another Northern Cape beauty: Quiver trees, known in Afrikaans as kokerbome. Except, of course, they're not true trees but in fact modified aloes. They get their name from the San people who called them choje and used their hollowed out branches as quivers for their arrows. The 'trees' can reach up to 8 m high, and while they tend to be solitary plants, there are a small number of quiver tree 'forests', too, including one situated near Kenhardt. If you're looking to grow your own, there's a quiver tree nursery (Koms Kokerboom Kweekery) in Keimoes. 
What to photograph: Sociable weavers' nests are inexplicably photogenic as part of wide-angle landscape pictures; quiver trees look pretty good in close-ups, too.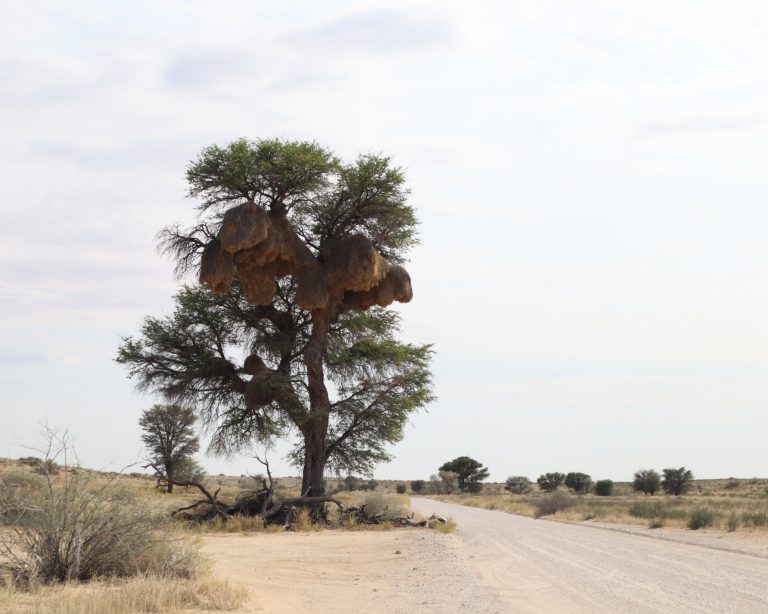 Words by Keith Bain
Photography: Courtesy Images