Keith Bain joins an epic overland adventure undertaken in some of the finest vehicles ever made. This is his African road trip experience.
It was roasting hot, the sun glistening, the air slick, wet and thick with diesel fumes and sweat; flies were circling, people milling, queues lengthening.  Land borders are seldom pretty, and the human congestion in the bustling no man's land holding area at the busy Botswana-Zimbabwe Kazungula crossing was especially stifling. The space was clogged by big trucks and cargo carriers, some of which looked liked they'd been waiting for days. It's the paperwork that will drive you bonkers; the pencil pushers are sticklers for precision. You'd expect the atmosphere to be taut, fractious, impatient.
Instead, a calm prevailed. Drivers familiar with the frenzy of the administration process stood around patiently, chatting and laughing with some locals circling around them, doing their bit for the local economy, and keeping the mood light as they assisted truck drivers who sometimes wait days at a stretch. Besides, word was that the prolonged wait had nothing to do with slow officials – the computers were offline. And so we waited. And waited…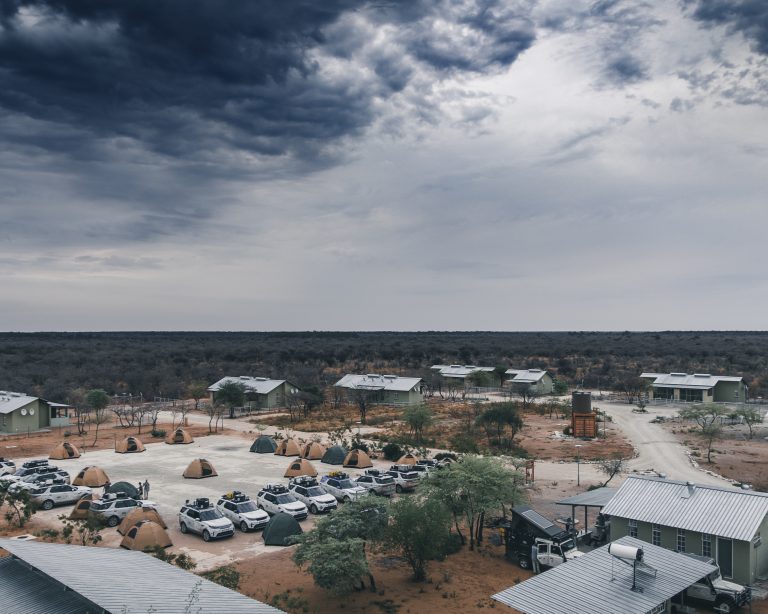 Our group, comprising more than 30 lucky souls driving a convoy of 18 Land Rover Discovery off-road SUVs across the Caprivi Strip, had already had nine magical days to settle into the rhythm. In less than a week, we'd crossed umpteen borders. Sometimes we'd gone in and
out of one country within the same day, and we'd spent time at stuffy little border outposts where you could actually smell the rat faeces in the ceiling (and others where there was nothing but a table under a tree), but the armed guards had posed with us for selfies. We'd even been treated like VIPs everywhere we went, despite forcing officials into tedious form-filling as they concentrated hard on passports from at least half a dozen countries. 
There was also that other Angolan border post in the middle of nowhere. It was lodged in a very modern-looking brick building painted some impossible shade of green and had a concrete courtyard lined with 18th-century Parisian street lamps. At one Namibian border, our passports were stamped under a makeshift gazebo by a charming duo who may as well have been a happily married couple. At another one of the busier, more serious-looking posts between Namibia and Botswana, we watched illegally parked cars being clamped with some scary, toothed contraption that looked like a prop from Mad Max. There I witnessed the frustration of long queues endured by ordinary people who cross major boundaries every week – to do their shopping or visit family. The queues can break you. Or they can break your heart. When you're privileged and being swept through the long-winded bureaucratic process such as some VIP while dozens upon dozens of people wait for hours, it can also make you realise just how lucky you have it. 
Freedom to explore
While border crossings weren't the whole point of the journey, they certainly gave it an edge, and they gave a shape to our adventure. Often, apart from the reality – and signage – of a boundary between countries, it wasn't even clear where we were. What was certain is that we were on the trip of a lifetime, a once-off, never-to-be-repeated journey that had started in Windhoek and followed an on-the-map and then off-the-map route north and then through the Caprivi Strip, zig-zagging this way and that to cross various borders. We veered from Namibia, briefly into Angola and back, and then into Zambia, and back again before heading into Botswana – where we caught our breaths with incredible animal sightings, had hot showers and even cruised on the Chobe River with sundowners. And, after our long wait
at Kazungula, we would then cross into Zimbabwe, where we'd be welcomed in the lap of luxury at the historic Victoria Falls Hotel.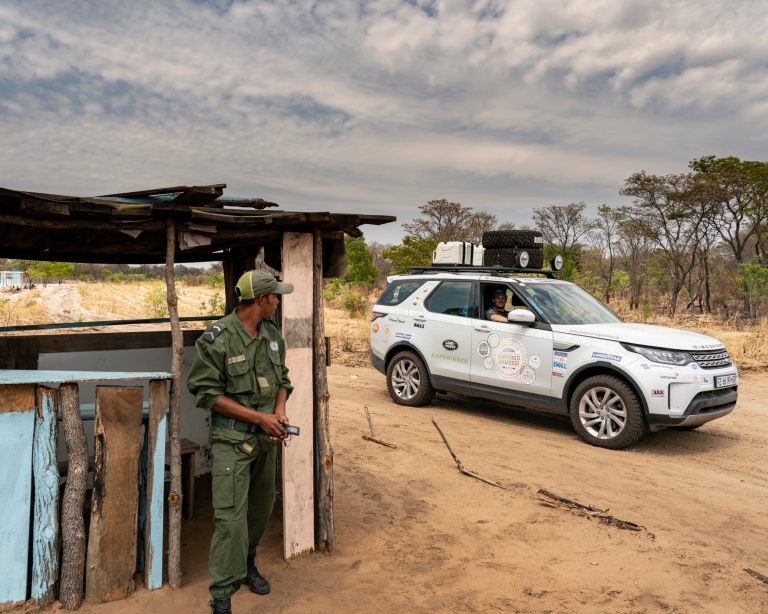 Some days were slower and longer than others. On one day we drove from sunrise until shortly before midnight, with barely time to pee when we stopped for fuel. Our mission was to circuitously see a number of reserves and protected areas that form part of KAZA, the Kavango-Zambezi Transfrontier Conservation Area, which is a collaborative undertaking between five southern African countries. At
Vic Falls, part one of the tour would end, journalists would swap with other journalists, then the convoy would continue into Hwange National Park and Khwai Conservancy in Botswana. 
We mixed it up a lot. Sometimes we camped in places so untethered from the world that a spade was required to use the loo. We also spent nights in proper beds too, and even enjoyed periods of straight-up luxury. We learnt to put up tents in the dark and to strike camp quickly like a regimented team. At times we felt as far from civilisation as you could hope to be, and yet we had such expertise along with us – men who could do a full service on a Land Rover in the bush – and there was even a satellite dish to hook us up to WiFi in the wilderness.
Ah, but this land is truly beautiful
There are places in this world that most people will never hear about, let alone see. One of them is Luengue-Luiana, a national park in the seemingly forgotten far-southeastern corner of Angola. It's just north of the Caprivi Strip and while there are border posts linking its sand tracks with Namibia, these are unofficial posts accessible only to local people, most of whom cross on foot. The park is so off-grid that it's not even linked by road to Luanda. For our mission, Dag and his team had negotiated hard for well over a year so that our convoy could cross the unofficial border and see what vast and unspoiled beauty exists out there on the other side.
 There, we drove on ridiculously difficult sand tracks, through magical tracts of forests where ghostly trees that had shed their leaves stood so thick they blocked out the sunlight. While it was indescribably magnificent, it was also pretty hard-going, driving over soft sand tracks that seemed out to try and sink us. The great thing about people getting stuck in the sand, though, was that it afforded a chance to take a pee in the bush in a place that was once riddled with landmines. That really took some effort to wrap my head around, and often I chickened out even though we'd been repeatedly told that the area had been completely de-mined. That day I drove with a very full bladder.   
In Luengue-Luiana, we camped in a clearing close to a water hole, and through the night could hear hippos guffawing as they trundled between our tents. We woke up early to witness the most incredible dawn, spectacular colours stretched across a vast sky. It wasn't only nature that we were there to discover. We were there to meet local people, too; and to see how climate change has impacted life for everyone. We visited a school where children turned up after walking miles through wilderness to get to class. There were also communities where the nearest shop or hospital was a full day's trek away. At our campsite in the middle of Namibia's little-known Kadoum National Park, we were visited by a family from the town of Tsumkwe (the capital of the Bushmanland province) who showed us how they find water in the desert. Afterwards, they entertained us with trance dances around the fire.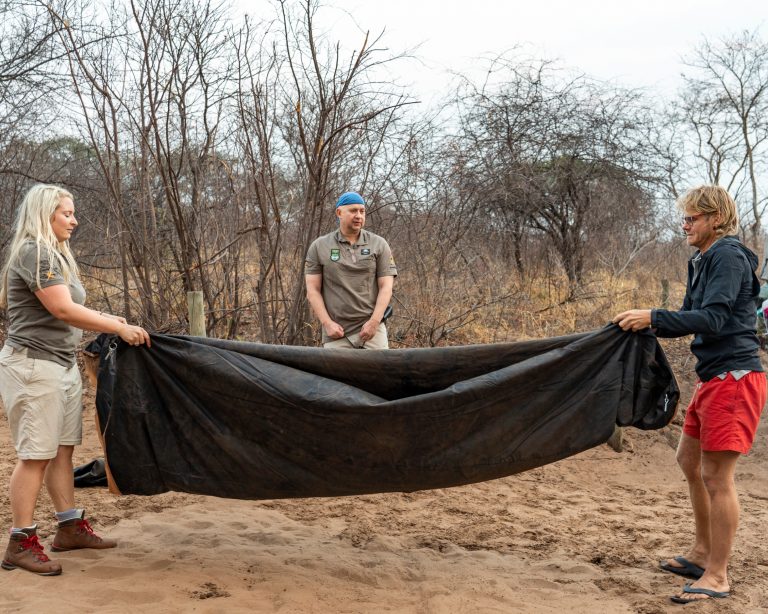 We caused a bit of a sensation wherever we went, including when we stopped in Jambo, an Angolan village that – during the Border War – was the thriving headquarters of Jonas Savimbi. There was a night spent at a lodge at Namibia's Popa Falls, where we took a languid cruise along the Okavango River, watching people bathing and fishing not far off from where some hippos and crocs were cavorting. There were those thrilling encounters, too. While camping in Chobe National Park, I was woken up in the night by what sounded like a lion roaring in the distance. In the morning, we found its tracks – he'd sauntered right through our campsite, practically brushing up against some of the tents. 
Cruise control 
Our adventure didn't quite deposit us in harm's way, nor were we too far from civilisation even when the GPS showed us cruising through unmapped areas. Still, there's a tangible freedom that comes with knowing your vehicle can stand up to virtually anything the environment can throw at it. Feeling safe and secure in hostile environs bestows a certain ease, a great comfort when you're not quite sure where you are. It's little wonder that Kingsley Holgate – South Africa's preeminent explorer – traverses Africa's most difficult-to-reach places in his trusty Defender. The Discovery I was driving possessed almost sentient levels of intuitiveness. There were settings for just about any eventuality – and that car was jacked for cruising on difficult sand tracks and great for manoeuvring ridiculous spaces and hard conditions. I was a bit shocked by what this machine could do – it was tough, eager to go, and hard-wearing, too. 
The experts among us ran the mission like clockwork, a small team working with surgical precision, focus and speed to perform emergency tyre changes after one or another German journalist drove like they were on the autobahn, when what they needed to do was chill out and let the car drive itself. But really the biggest challenge were the tracks – miles and miles of deep, soft sand. The trick, I learnt, was to basically let the car drive itself. Just lightly touch the steering wheel to make sure you don't drift off the path, but otherwise take it slowly and let the vehicle figure it out.With that in mind, I managed to drive some 2 000 km without a puncture or getting stuck in the sand. My experience was incident-free in fact, aside from that one time when I got so lost in the thrill of the drive that I took the wrong track and headed into the distance. I was set to end up in oblivion until the radio crackled to life and I heard expedition leader Dag Rogge calmly informing me that I'd overtaken everyone and was now missioning in the wrong direction – as one does when the wanderlust spirit takes hold and you get lost in the moment.  
Wee at last
Back at Kazungula, the mood was turning fairly festive. Kevin, a young Swiss guy with a devil-may-care attitude and a big heart, had succumbed to the heat, stripped off his shirt and cranked the volume on his Discovery's sound system. Spilling out of it was some infectious French-Senegalese hip-hop that sparked a pop-up disco right there in no man's land. The truck drivers in cowboys hats watched and smiled. Some whipped out their cellphones to capture the unfolding fun. This, I thought, was how you're meant to wait it out at border posts – all it takes is the right attitude and, instead of tedium, you experience a thrill. After all, in a few hours it would all be over. Once the computers came back online, we'd be through the gate, heading east along the straight stretch of Kazungula Road and end up inside the wood-panelled interior of the Victoria Falls Hotel, sipping G&Ts.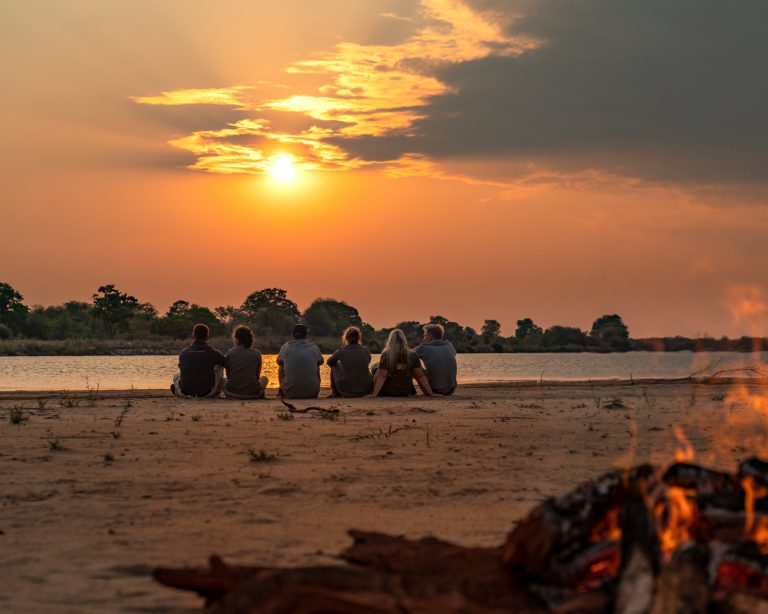 But first, there was that persistent problem one finds on road trips: I really needed to pee and if there was a loo at the border, I couldn't find it. When I couldn't hold it any longer, I found a spot away from the milling crowds and stood between the vehicles and found a quiet spot against the fence. As I stood there weeing through the wire, all I could think was: 'I wonder if I'm weeing into Zimbabwe or Botswana?' Or perhaps it was Zambia. Maybe even Namibia. It didn't matter. The point was that I was free to wee. And I did. 
Words by Keith Bain
Photography: Henning Lueke, Courtesy Images