Combine your next holiday with a challenge that puts your mind and body to the test. These are some of South Africa's toughest adventure races – where the enfolding scenery stays with you long after the physical suffering and hard slog
A tough race should challenge you beyond YOUR expectation, with MEGA rewards built into the mix. You might wince when reading the race description, but if the terrain, views and scenery make the risks sound like they're worth the reward, then you're probably on the right track. It's impossible to pick only one daunting run in South Africa. There's the mountainous terrain of the Eastern Cape's Witteberg range with private farms that you can't access except if you run the annual 100 km K-Way SkyRun… Or maybe the pristine wilds of the 42 km Otter African Trail Run featuring rugged coastal trails, indigenous forests, river crossings, mesmeric scenery and an average of 7 000 steps. Another bucket-list race should be the Wildcoast Wildrun, a three-day, 112 km run along a slice of unfenced coast that traverses the rural homeland of the amaXhosa people from Kei Mouth to Hole in The Wall.
This trail-running suffer-fest is wild in every sense of the word, from footprint-free golden beaches along a warm ocean to rolling grass headlands and delicate coastal forests teeming with life. But if a three-day stage-race slog isn't your jam, perhaps you'd like to cram all the agony – and endless successions of rewarding views – into one long, long, long race. Ultra-trail Cape Town has distances to suit different levels of crazy: There's a super-tough 100-miler and a 100-km long race, both for the uber-fit, and there are 55 km, 35 km and 23 km options for those with more toned-down ideas about pushing the bounds of reason. The full 100-miler takes runners from the northern mountain range of the Mother City to the more remote southern mountains, with additional trails from Silvermine to Kalk Bay, Kommetjie, Simon's Town and beyond.
In total, that's some 8 km of vertical gain over the course of the race – and you have 45 hours in which to complete it (it starts at 5 pm on the first day, so you know you're in for an unbelievable adventure). There's lots of technical terrain and steep ups-and- downs, with temperatures capable of reaching the high 30s come midday – you'll be bruised, you might cry, and you'll swear you'll never do it again… But you will. Because the experience is simply that awesome.
Get in the saddle
Trail running is a strenuous business. You might think it has to be easier to ride a horse but if you enter the Fauresmith 200, you're in for a hard slog. This annual endurance horse ride sees riders and their horses descend on the Free State town of Fauresmith every July for a demanding 206 km marathon. It's an obstacle course with pitfalls such as loose rocks, holes, eroded gullies and fence posts concealed by grass. Newbie riders must pace them-selves and their horses to complete all three of the days. The race exemplifies excitement, adrenaline and achievement – it's one of the toughest in the world. And for a number of the riders, it's the realisation of a life's dream. If you don't own a horse, there are other ways that you can get on the saddle. Why not get on your mountain bike and ride The Munga MTB – a single-stage cycle race across the middle of South Africa in the heat of summer. That's 1 000 km in 120 hours in summer through the Karoo – there will be blisters and perhaps some hallucinating, too. You can also enter the Freedom Challenge Race Across South Africa. The 2 150 km route follows the Freedom Trail from Pietermaritzburg to Wellington along a wide variety of off-road terrains – dirt roads, farm tracks, footpaths and even animal trails. It's both physically and mentally demanding with a 26-day cut-off, after which your bum might be stuck in your saddle. If you have less of an inclination for suffering, then the popular Wines2- Whales race – cycling from the wines of Lourensford to the whales of Onrus over a civilised three days – may be just the journey you dream of, especially since you get to relax with a glass of wine at the end of a gruelling day.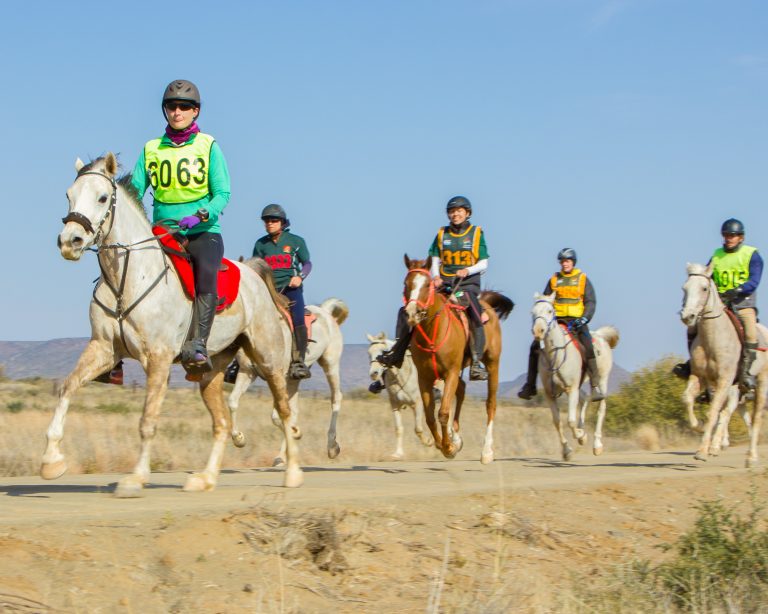 Water therapy
Heavy sweating isn't the only way to get wet on a hard-core adventure. The Dusi Canoe Marathon is a back-breaking race where only the most resilient of paddlers will make it to the finish line. The race covers roughly 120 km between Pietermaritzburg and Durban. It includes numerous portages where the paddlers carry their craft over hills, either to cut out un-runnable rapids and cataracts or eliminate long loops in the river. Most of these portages are through the thick bush on steep and undulating terrain, and several of them measure around 4 km in length. You can also swim the Midmar Mile – the world's largest dam swimming race in terms of the number of participants. However, you need to be able to swim a mile while dodging arms, legs and bobbing heads. Alternatively you can also join the Freedom Swim, a series of charity races spanning the 7.4 km between mainland Cape Town and Robben Island. The main thing to know is that it's dauntingly cold (you'll need a wetsuit) and that it was founded in 2000 by Ram Barkai, one of the country's legendary ice swimmers. The swim goes from Blouberg every Freedom Day, but you can also make arrangements for a private swim, or find others keen to join you for a pre-arranged personal event.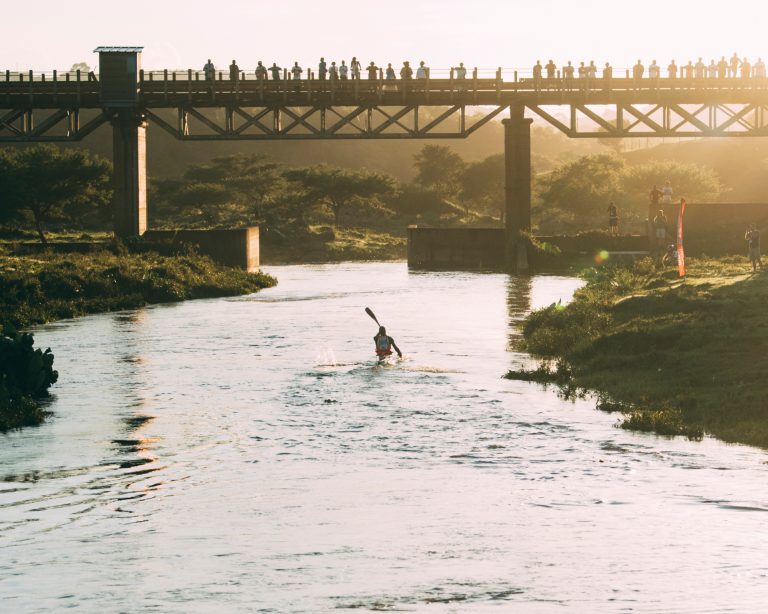 Words by Mart-Marié du Toit
Photography: Kelvin Trautman, Llewellyn Lloyd, Courtesy Images