For years Simone Biles shouldered the hopes of a nation and the dreams of under-represented little girls everywhere. Now, at last, the greatest gymnast of all time is putting herself first.
When Simone Biles
walked away from the 2016 Rio Olympics with four gold medals and one bronze, journalists drew rapid comparisons to other seemingly unbeatable athletes. Simone, however, was just as quick to distinguish herself from them. 'I'm not the next Usain Bolt or Michael Phelps,' she told the media. 'I'm the first Simone Biles.'
That flex was well earned. Simone is, objectively, the greatest gymnast of all time. She is the most decorated competitor (male or female) in World Championship history and has a combined tally of 32 Olympic and World Championship medals, tying with the former Soviet Union's Larisa Latynina as the most decorated gymnast in history.
Medals and stats aside, Simone's dominance is evident just by watching her. She executes skills that make you question her relationship with gravity. Her moves carry some of the highest difficulty ratings in the sport, despite controversy about the International Gymnastics Federation (FIG) consistently underscoring them. Even Simone's teammates have said that they're all just competing for second place.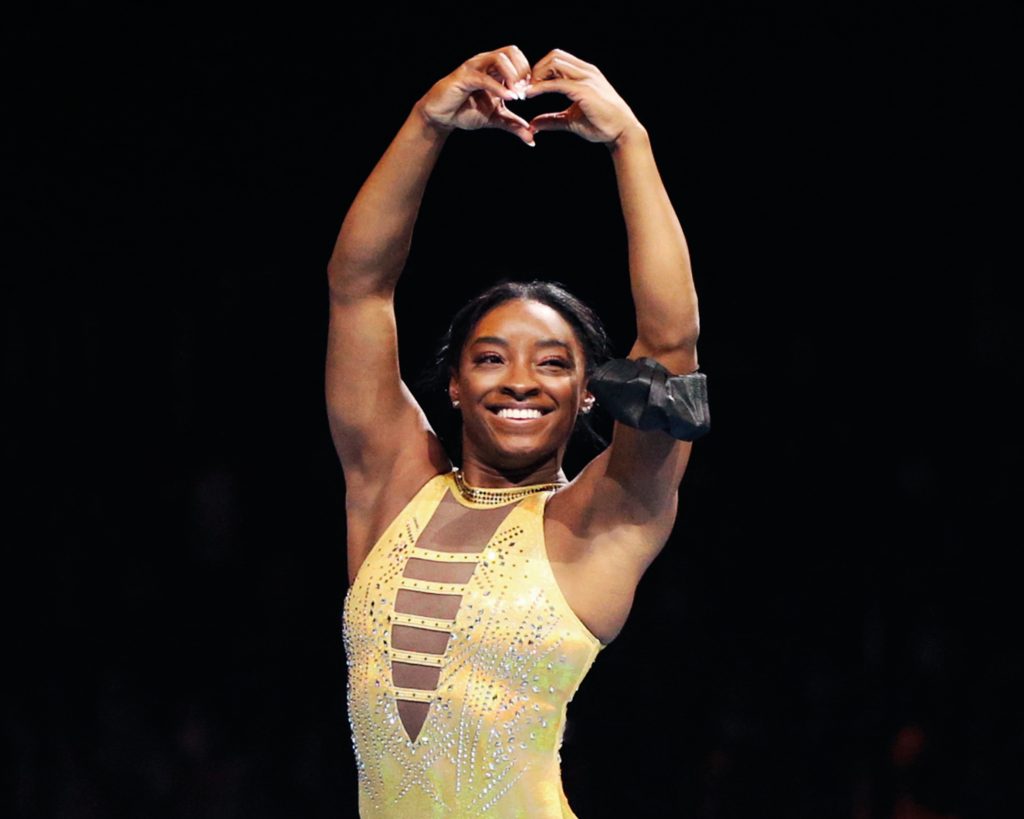 Late To The Party
Simone is considered to have had a late start in gymnastics, beginning as she did at the ripe old age of six (her competitors would have been training since they were two or three years old). The delay could not be helped, however. Until 2003, Simone and her three siblings had been bouncing around foster care. 'Growing up, we didn't have a lot of food,' Simone recalls in the Facebook Watch docu-series Simone Vs Herself.  'I remember there was this street cat that used to hang around the house. I would be so hungry, and they would feed the cat, and I'm like, "But where is my food?"'
When Simone's grandparents became aware of the situation, they adopted Simone and her younger sister Adria. With a little stability, six-year-old Simone thrived, growing into a bubbly, energetic child. One day, her daycare went on a field trip to the local gymnastics school. Her talent was immediately seen; the owners suggested to her carers that she enrol. It's her first step to being the 'Simone Biles'.
What A Winner Looks Like
Simone is a living, backflipping testament to how the sport of gymnastics is evolving. Less than a couple of decades ago, gymnasts were expected to resemble ballerina archetypes – slender, demure, hyper-feminine and almost universally white.
'Growing up, I didn't see very many black gymnasts,' Simone says in the interview accompanying her 2020 Vogue cover. 'So whenever I did, I felt really inspired to go out there and be as good as them. I remember watching Gabby Douglas win the 2012 Olympics, and I was like, if she can do it, I can do it.'
Today, it's Simone who is inspiring legions of girls – of all races and shapes – to take up the sport, and her decorated status has helped to redefine what a gymnast 'should' look like. The way to physically distinguish a champion, thanks to Simone's legacy, is simply to look for whichever girl has the most medals around her neck. '…God made me this way, and I feel like if I didn't have these legs or these calves, I wouldn't be able to tumble as high as I can and have all of these moves named after me.'
A Monster In Plain Sight
In January 2018, Dr Larry Nassar, formerly of USA Gymnastics, was sentenced to 175 years in prison for sexual assault. He is accused of sexually abusing more than 200 of the gymnasts in his care during his 18 years as the US national team's doctor. That includes four of the five members of the 2016 Olympic team. And it includes Simone Biles.
'You know me as a happy, giggly and energetic girl,' she tweeted, shortly before his trial. 'But lately I've felt a bit broken and the more I try to shut off the voice in my head, the louder it screams. I am not afraid to tell my story anymore. I too am one of the survivors that was sexually abused by Larry Nassar. I now know … it was not my fault. I will not and should not carry the guilt that belongs to Larry Nassar, USAG and others. I am much more than this. I love this sport too much. I won't let one man steal my love and my joy.'
The Twisties In Tokyo
One of the things that had originally marked Simone as a promising gymnast is her innate 'air awareness'; the ability to know where your body is as you twist in space. Without it, it's impossible for a gymnast to land their skills safely.
Imagine, then, the fear and devastation that the 24 year old must have felt upon arriving in Tokyo only to discover that that crucial awareness had deserted her. Elite gymnasts refer to this feeling as 'the twisties', the result of a mental block due to psychological stress. In the past they've cost gymnasts head injuries, broken necks and even (in the case of 15-year-old Jacoby Miles) lifelong paralysis.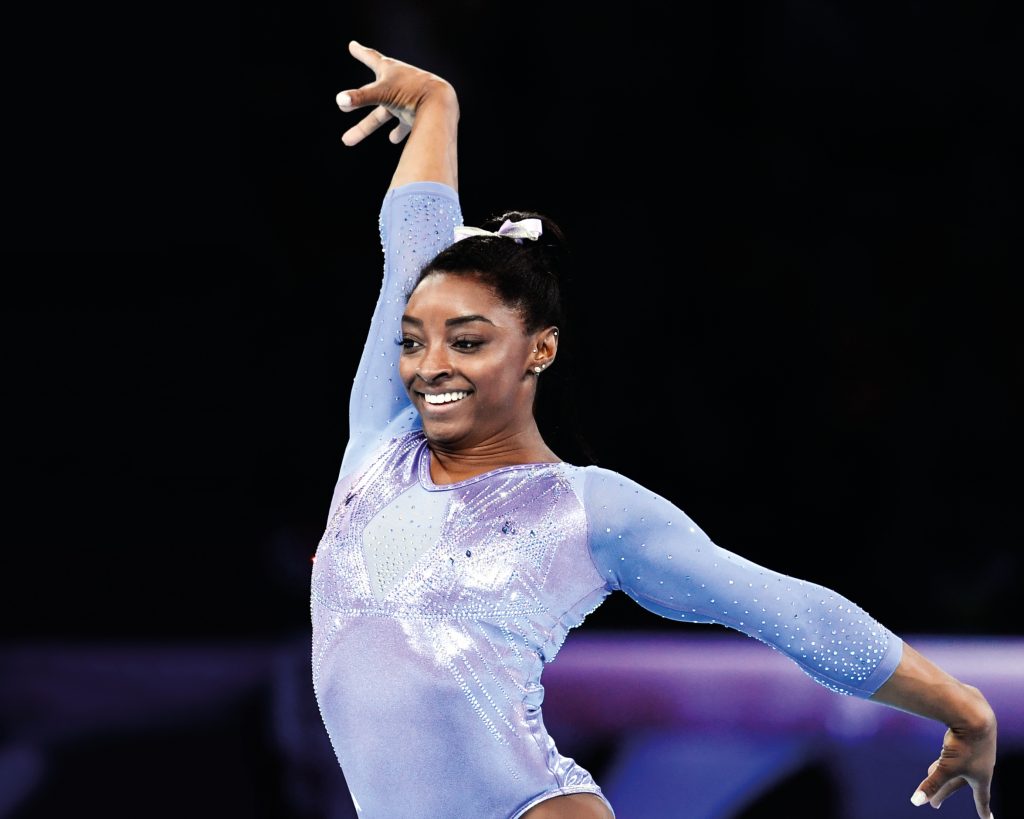 'So, I'm having these mental blocks in the gym recently,' Simone says in a tearful vlog from her Tokyo hotel room. 'It's been scary. I'm getting lost in my skills. It's getting to a point that it's becoming dangerous.' The pressure to be Simone Biles was slowly crushing Simone Biles.
We know what happens next. Simone withdraws from all but one event, citing mental health issues and her desire not to cost the team a medal.
Simone is used to making history by now, but Tokyo was something different. That was not 'the first Simone Biles' – the golden girl with a pasted-on smile; the face of a gymnastics governing body that had turned a blind eye to wide-scale abuse for years. This was Simone Biles 2.0: A woman who has confronted deep trauma and unimaginable, soul-crushing pressure, and chosen herself. And she still the GOAT.