If you like it hot, these recipes make the most of fresh chillies and spicy chilli flakes
Mexican chicken burgers with sweet potato fries
SERVES 6 
PREP TIME 30 min
COOK TIME 25 min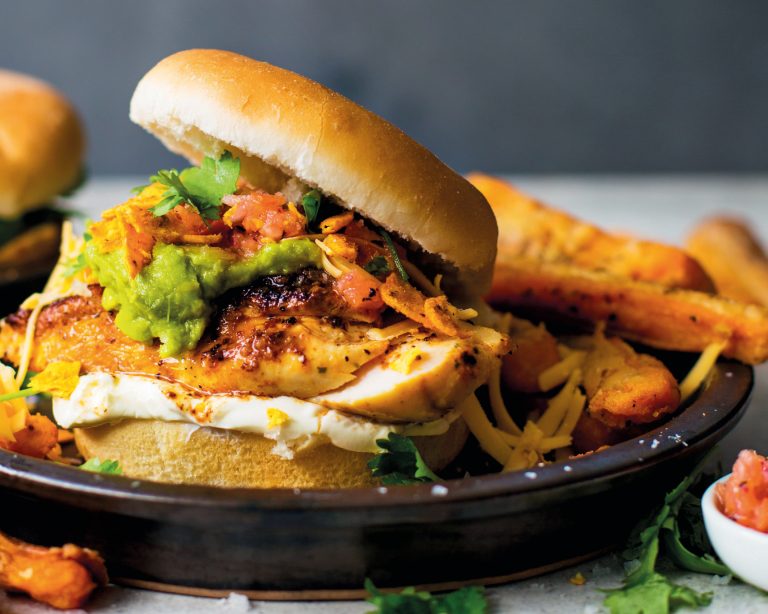 INGREDIENTS
For the chicken 
½ cup lemon juice 
3 tbsp tomato paste
3 tbsp oil
3 tbsp finely chopped coriander
1 tbsp finely chopped garlic
1 tsp ground cumin
2 tbsp chilli flakes,
6 skinless chicken breasts
For the fries
2 sweet potatoes, halved
1 tsp salt
Pinch pepper
⅔ cup flour 
For the salsa
1 red onion, finely chopped
4 tomatoes, finely chopped
2 tbsp vinegar
2 tbsp oil
To assemble 
⅓ cup plain yoghurt
6 burger rolls, sliced 
1 cup grated Cheddar
1 cup guacamole
1 cup crushed tortilla chips
1 cup finely chopped coriander 
METHOD 
For the chicken
1. Whisk all the ingredients, except the chicken, together. Pour over the chicken breasts and allow to marinate in the fridge for 20 minutes.
2. Heat 2 cm of oil in a pan over high heat. Fry each chicken breast for 3–4 minutes on each side. Season well with salt and black pepper.
For the fries
1. Boil the sweet potatoes in a pot of salted water for 6 minutes. Strain.
2. Cut into fries and sprinkle with salt and black pepper. Toss through the flour until evenly coated.
3. Heat enough oil for deep frying over medium-high heat and fry the chips in batches for 5–7 minutes, until crisp. Drain on paper towel.
For the salsa
1. Mix all the ingredients together and season to taste.
To assemble
1. Spread some yoghurt onto the base of each roll.
2. Top with chicken, cheese, guacamole and salsa.
3. Sprinkle the tortilla chips and coriander on top, sandwich closed and serve with the sweet potato fries.
MARINARA PASTA
SERVES 4
PREP TIME 15 min 
COOK TIME 25 min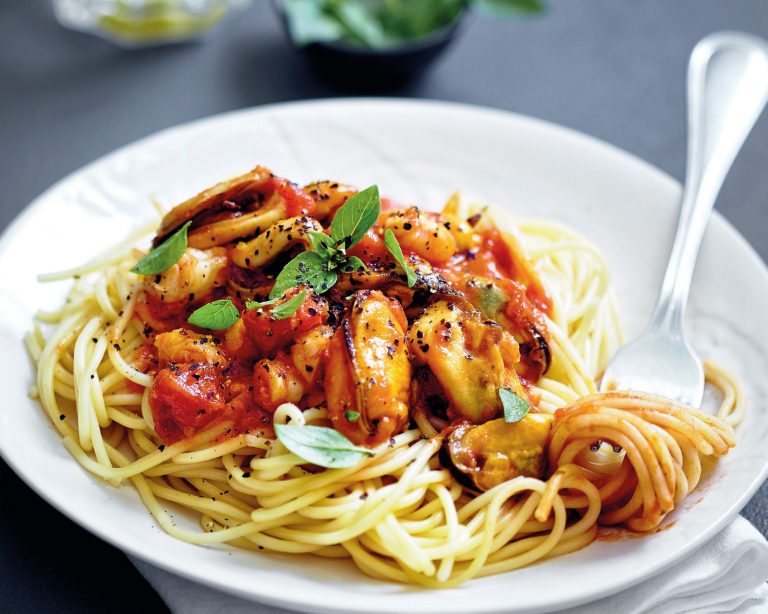 INGREDIENTS
6 anchovy fillets
4 garlic cloves, crushed
1 red chilli, finely chopped 
200 ml white wine
410 g tin chopped tomatoes 
400 g mussels
200 g prawn meat, roughly chopped
250 g spaghetti, cooked 
METHOD
1. Heat some oil in a pan and fry the anchovies, garlic and chilli for2 minutes. Add the wine and allow to reduce for 2 minutes.
2. Add the chopped tomatoes and season. Allow to simmer for15 minutes. Add water if needed.
3. Add the mussels and prawns. cover and cook for 5 minutes. Once the mussels have opened, scoop out the meat and return to the sauce.
4. Divide the spaghetti between bowls and top with the sauce. Garnish with fresh basil. 
Photography: Hmimages.co.za
Feast on these delicious curries and casseroles with the family this winter