Stunning scenery, a comfortable place to rest your head, plus fabulous hosts. We've rounded up a few local places that provide the travel trifecta.
1.  Supertubes Guest House | Jeffreys Bay,  Eastern Cape
A major drawcard for Cape Country Routes' Supertubes Guest House is its location just 30 metres from the beach. It features beautifully styled en-suite luxury, and standard rooms and self-catering apartments. Couples, groups or families can choose the set-up that will suit their needs. Aside from surfing, activities for the whole family include whale watching, fishing, horse riding and big five game viewing. Supertubes Guest House is owner-managed, and you can feel that personal touch.
042 293 2957 
supertubesguesthouse.co.za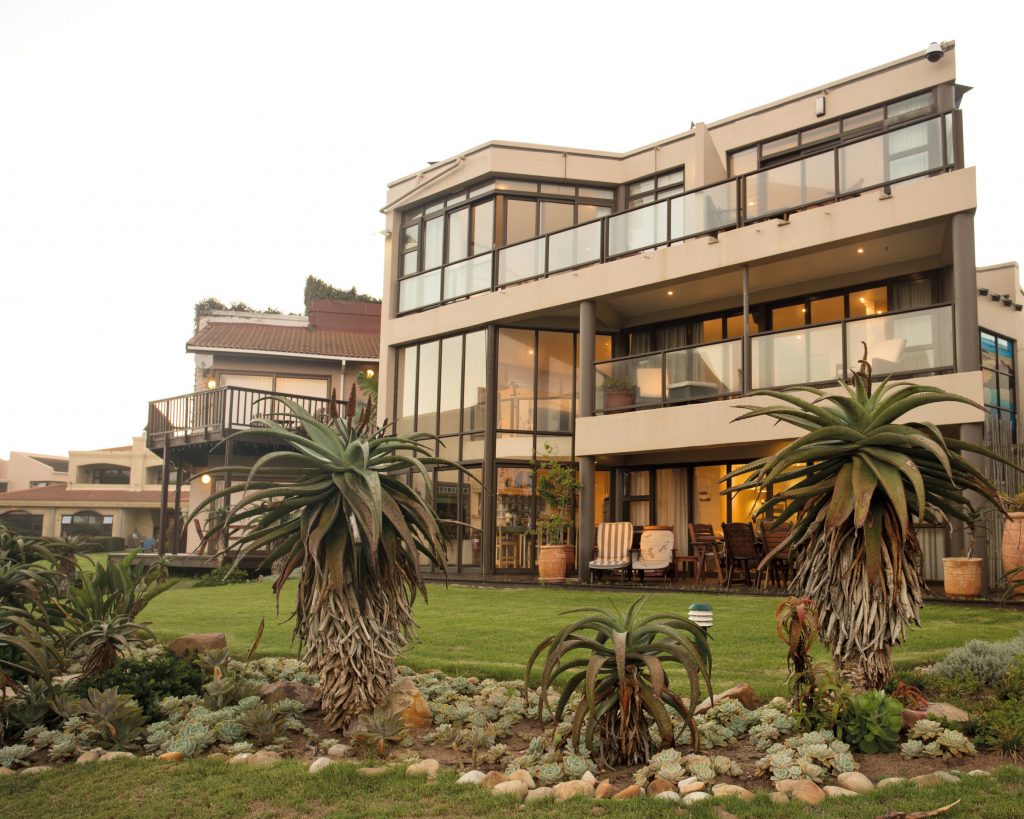 2. The Lofts Boutique Hotel | Knysna, Western Cape
The luxurious four-star Lofts Boutique Hotel on Thesen Island in Knysna offers tranquillity and a brand of homely hospitality that is truly unique. Situated inside a remodelled boat-building shed, Knysna's boat-building heritage and lagoon-side appeal meet The Lofts' quirky architectural innovations and buzzing atmosphere head-on. They have 18 rooms, all equipped with four-star amenities. The hotel facilities include a stylish sundeck that opens out onto the water and features a turquoise plunge pool and stunning views; a step away is the Atrium – a bustling cluster of shops, a spa, and eateries, including The Lofts' Boatshed Café. 
044 302 5710 
knysnahotel.co.za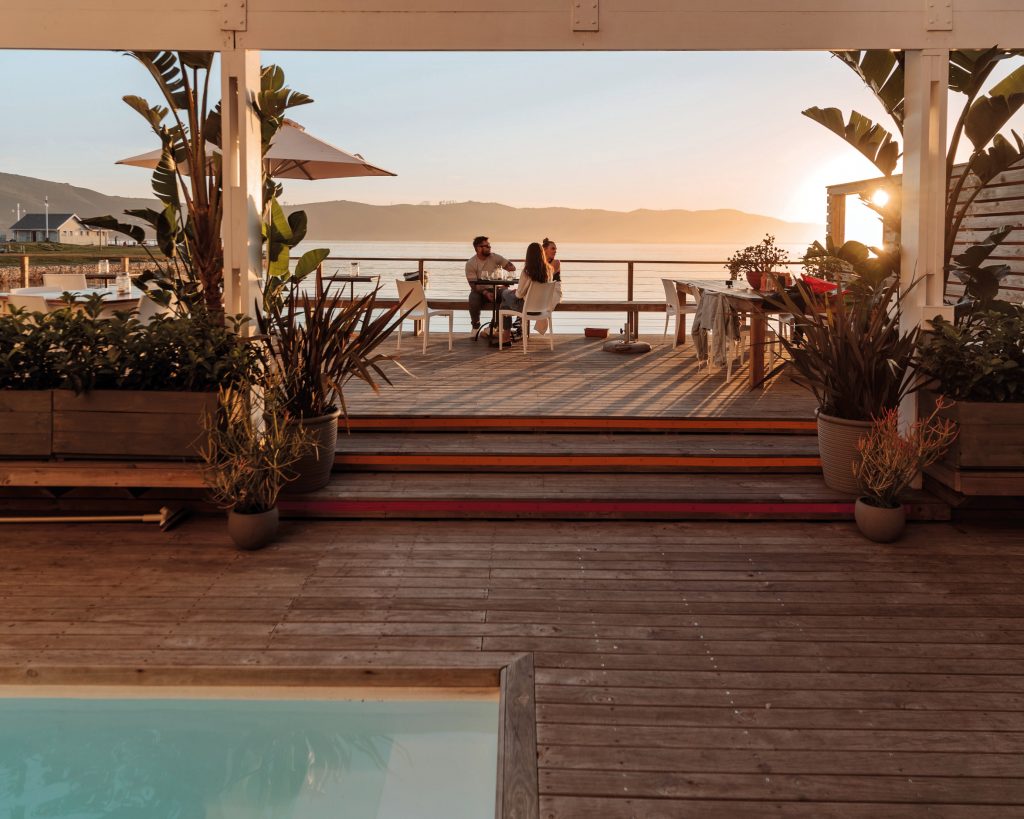 3. New Holme Nature Lodge | Hanover,  Northern Cape
The New Holme Nature Lodge is a working sheep and game farm situated in the Karoo Gariep Nature Reserve, one of the two nature reserves of the newly branded KhoiSan Karoo Conservancy. Eight kilometres off the N1 highway outside Hanover, it is situated midway between Cape Town and Johannesburg and between Upington/Kgalagadi and the Garden Route. The reserve is home to the only hippos in the Karoo and has Cape buffalo, eland, roan and sable antelope. New Holme is known for its traditional Karoo dinners, underground wine cellar, sunsets, night drives and the 'shy five'. You have to experience it
to believe it, and we won't blame you if you think of New Holme as your new home away from home.
082 567 9211
khoisankaroo.co.za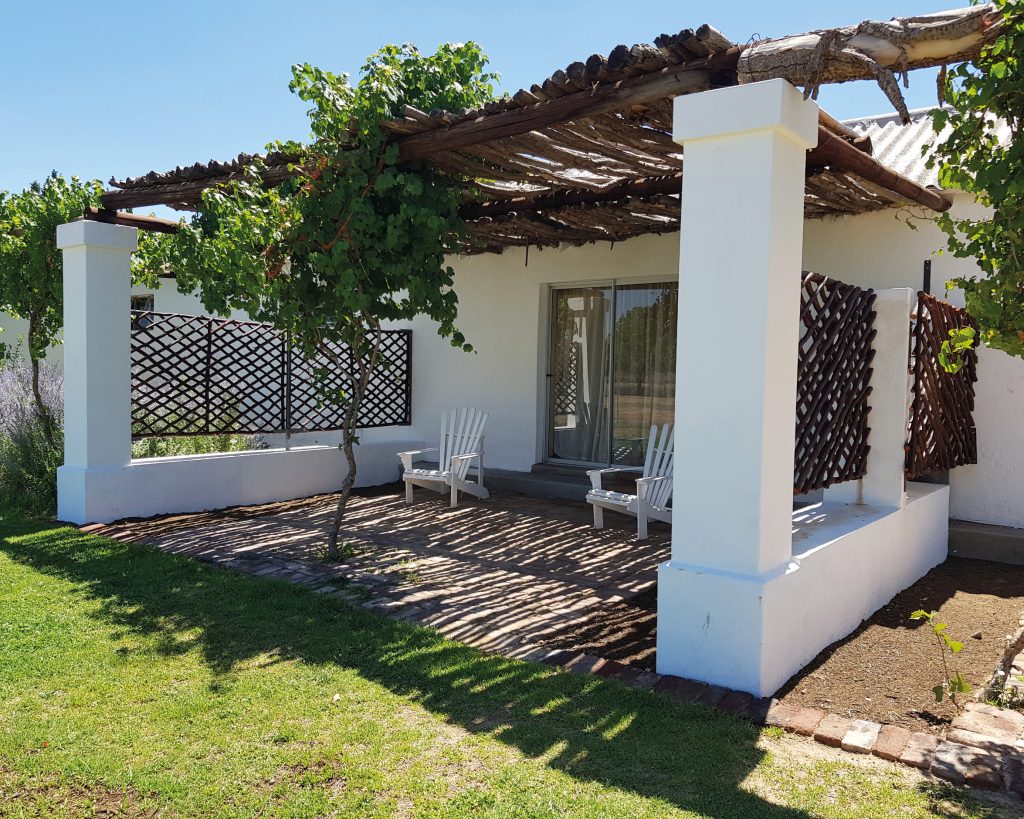 4. Piekenierskloof Mountain Resort | Citrusdal, Western Cape
Waking up to spectacular views of the Cederberg mountains? Bliss! Your escape starts with a gentle meander along the winding curves of Piekenierskloof Pass, which will bring you to the welcoming sight of Piekenierskloof Mountain Resort. Perched at the top of the pass, overlooking the charming town of Citrusdal, Piekenierskloof offers genuine country hospitality. This is the perfect place for a holiday with the family. The resort is also ideally located for you to head out on a self-drive to explore the surrounding area.
022 921 3574
piekenierskloof.co.za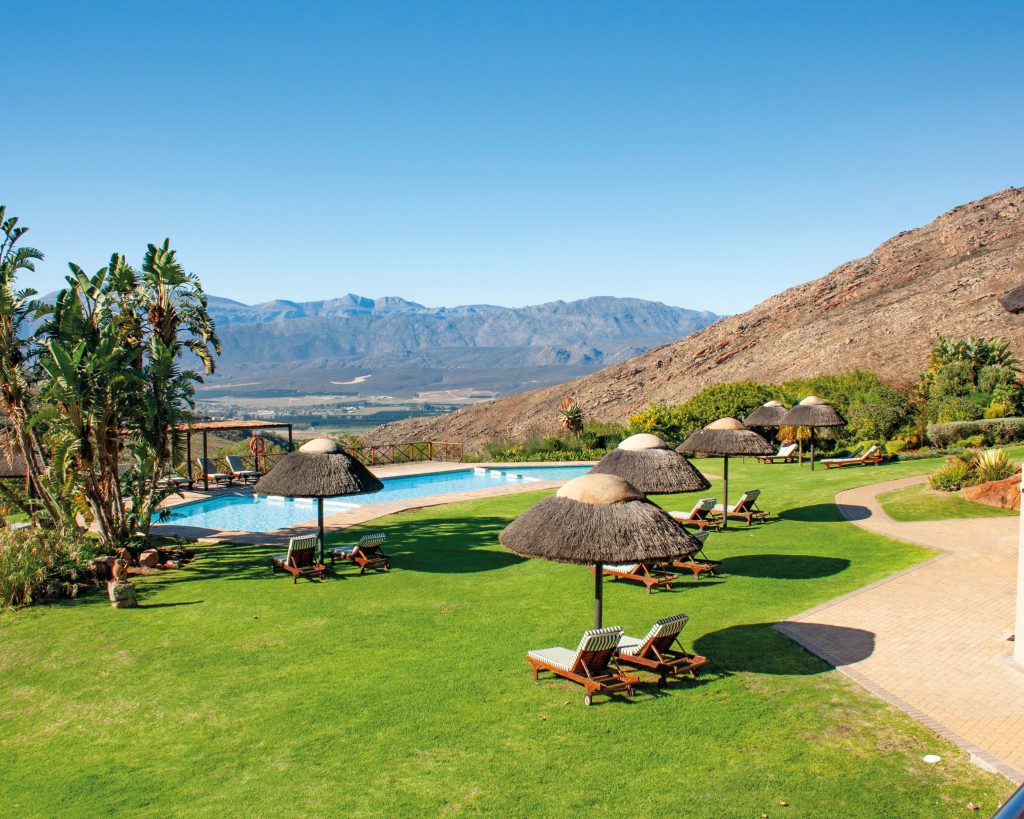 5. Die Eike | Rawsonville, Western Cape
You'll find Die Eike Guest House at the foot of the Badsberg Mountains in the beautiful Slanghoek Valley, near Rawsonville, only an hour's drive from Cape Town. The lovely Cape Dutch homestead was initially built in the early 1800s, surrounded by oak trees, vineyards, orchards and views of majestic mountains. The newly renovated guest house offers seven luxury en-suite self-catering units, each with its own private entry and braai facility. Guests can relax at the swimming pool or enjoy meals at Die Eike Restaurant, situated on the same premises. Martelle Etsebeth and her team strive to offer genuine country-style hospitality and a relaxing atmosphere that will guarantee an unforgettable experience.
076 193 7991
dieeike.co.za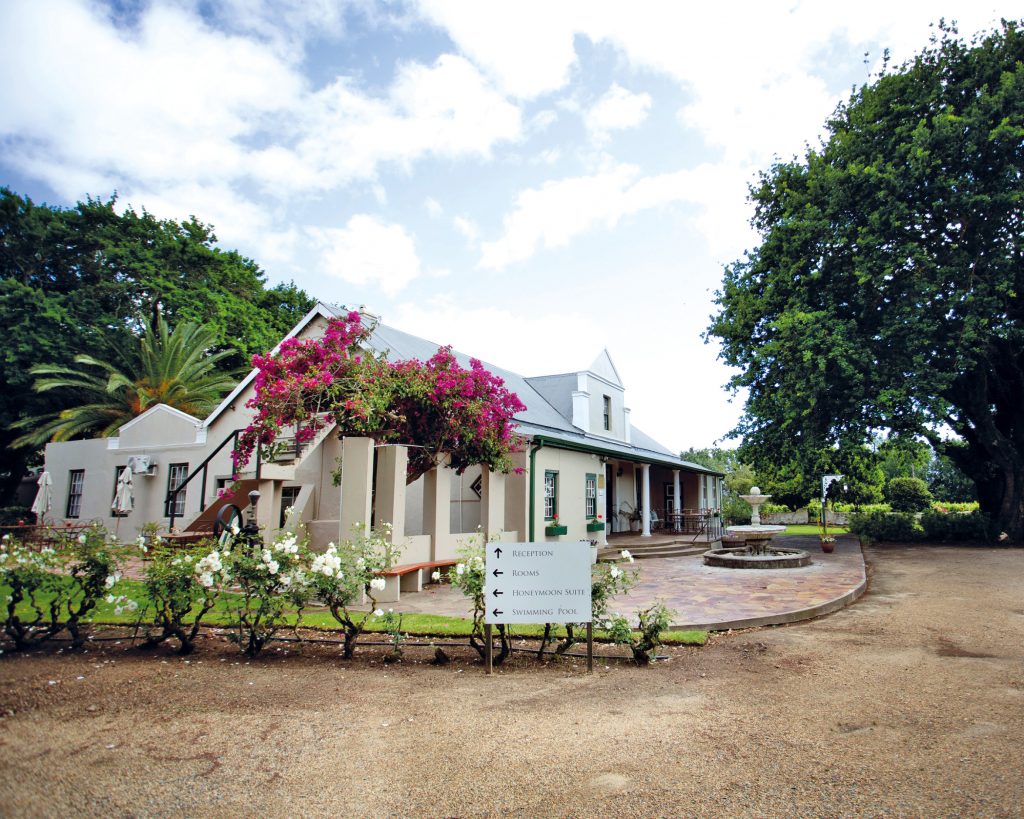 6. Gonana Guest House | Paternoster, Western Cape
Gonana is Paternoster's first sustainable and environmentally conscious guest house. Owned by Swedish entrepreneur and interior designer Jonas Sandström, Gonana is located on the Bekbaai beach alongside a green belt. The guest house is effectively off the grid and entirely environmentally ethical. All its water is recycled, its power is solar-generated, plastic usage is minimal, chemicals are taboo, the gardens are indigenous and water-wise, and with the ethos of 'buy local, think global', the decor is all-natural and sourced locally. Gonana's eight en-suite guest rooms are a study of calm and tranquillity with a neutral palette that encourages you to relax and reconnect with the natural world. As the name Gonana is derived from the Zulu word for 'embrace', it is fitting that all who enjoy and appreciate nature and are environmentally conscious are welcomed here with open arms.
066 194 1105 
gonanaguesthouse.com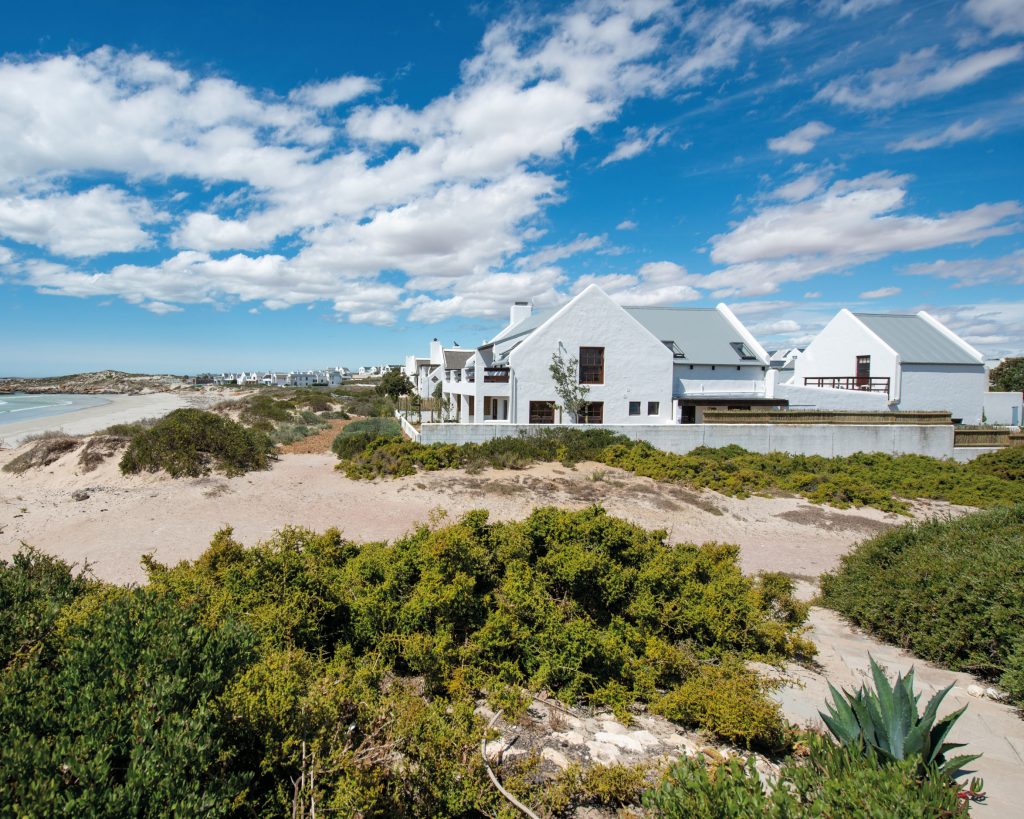 Words by Mart-Marié du Toit
Photography: Courtesy Images